The fun they had: New York Times staff mimicked mass killings in leaked photos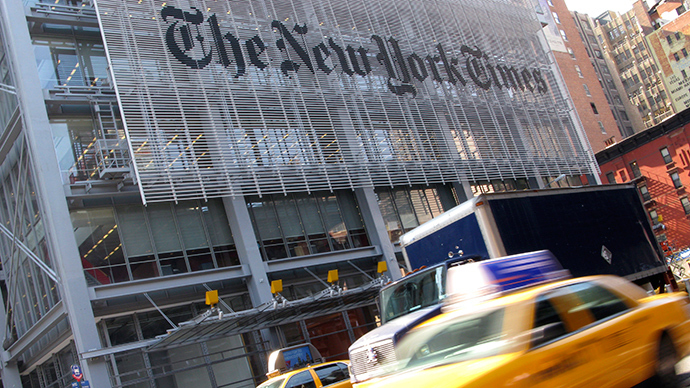 Two leaked photographs show top New York Times staff in poses making fun of mass killings shortly after they happened.
An unnamed former New York Times employee provided Gawker with the photos, which were then published on Tuesday. They show an apparent disconnect between the NYT image of decorous professionalism and literal images of staff making light of mass death.
One photo shows the longtime NYT opinion page editor Andrew Rosenthal wielding a fake M16 rifle and a bottle of wine over staffers stained with fake blood, recreating the June 2001 Nepalese royal massacre. The massacre was committed by the Crown Prince Dipendra, who took the lives of nine people including the king, queen, as well as his own. One of the weapons that he used was an M16.
The calendar on the wall indicates that the reenactment also occurred in June 2001, when the memory of the tragedy would have still been fresh in the minds of the public.
NYT staff recreating the Nepali crown prince's massacre of the royal family in June 2001 http://t.co/ovoI6kNofNpic.twitter.com/N3njuFiBg0

— Isaac Stone Fish (@isaacstonefish) June 23, 2015
The other photo shows a large number of staff posing in an apparently laborious reenactment of the Heaven's Gate mass suicide of 1997. Bill Keller, who would go on to reach the position of executive editor, is seen presiding over the staff posing as post-suicide cultists. Executive editor is the highest-ranking editorial position at NYT.
So @nytimes put some serious effort into making fun of the Heaven's Gate mass suicide pic.twitter.com/xlxvHylmU5

— Robert Mariani (@robert_mariani) June 23, 2015
"These photos are in poor taste, not reflective of the values of The New York Times and deeply regrettable," NYT's publisher, Arthur Sulzberger Jr. told Gawker in a statement Tuesday morning. Schulzberg is also the Chairman of the paper's owner, The New York Times Company.
This embarrassment occurs only three days after it was revealed that the paper was tricked into publishing an article claiming that the Charleston shooter Dylann Roof was a diehard fan of the children's cartoon My Little Pony.
The New York Times is considered to be a "paper of record" in the United States, meaning that it's one of the most authoritative, professional and widely respected media institutions in the country.
You can share this story on social media: