Tornados & storms wreak havoc in US Mid-West, Great Lakes area (PHOTOS, VIDEO)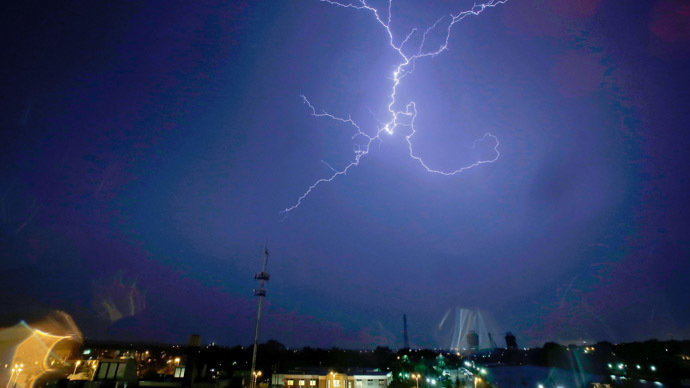 The US Mid-West and Great Lakes region have been battered by severe storms. A tornado hit Coal City, some 60 miles (97km) southwest of Chicago, injuring seven people, while five people had to be rescued in the state of Michigan.
At least seven states were hit in all by the thunderstorms, with numerous houses damaged and trees uprooted. Videos captured of the hurricane-like conditions showed an almost apocalyptic scenario, with debris littering the roads.
One of the worst-affected areas was Coal City, southeast of Chicago. A tornado affected the area, while there were at least two injuries according to local authorities, with one person taken to hospital.
"We are early in the process of determining the level of damage," Emergency Management director Joe Schroeder told WGN-TV early on Tuesday morning, according to AP. He added that at least 30 buildings were affected, many of them in residential areas, while a shelter was opened at a local high school.
Coal City is one of the communities hit hardest by severe weather. @UnruhJulie on the scene http://t.co/XRuCltcxKRpic.twitter.com/F57L6Z3ocL

— WGN TV News (@WGNNews) June 23, 2015
Brittany Halliday, the daughter of the Coal City's Mayor Terry Halliday told a local newspaper that homes had been damaged, while the storm had caused havoc in the area.
"There are some houses that are no longer there," she said. "There are [boat] trailers all over the place. It's just a mess," Reuters reported.
Incredible lightning from the tornado warned storm this evening! Finally! #onstorm#onwxpic.twitter.com/K6ssRel7Ty

— Laura Duchesne (@LauraDuchesne) June 23, 2015
There were also reports of damage in the village of Sublette, some 70 miles west of Coal City, weather officials said. The Chicago Tribune reported that Sublette fire officials confirmed five people had been hurt, including one with serious injuries.
Unsurprisingly, power lines in the area were damaged, with the utility company Commonwealth Edison Co. saying that at least 19,000 customers were without electricity.
New #tornado watch until 3am EDT for parts of south Michigan, north Indiana, east Illinois and northwest Ohio. pic.twitter.com/lG3OOfn0xV

— The Weather Channel (@weatherchannel) June 23, 2015
Meanwhile, five people had to be rescued from damaged buildings in the state of Michigan, after parts of the state were lashed by the savage storm. A tornado, with winds of up to 100mph affected the town of Portland, not far from the state capital, Lansing.
"We had people trapped in some of the buildings. They have been removed and are fine," Portland Fire Chief John Baker said, as cited by AP. He mentioned there may have been some minor injuries to residents, but no one has been hospitalized.
Elsewhere in Michigan, the city of Grand Rapids was affected by flooding.
The hazardous conditions brought chaos to the local transportation networks. The Chicago Department of Aviation reported that more than 500 flights had to be canceled, with the city's O'Hare and Midway Airports affected.
#ItsAmazingOutThere RT @barrybutler9 Mammatus Clouds over Chicago's North Side #storm#weatherpic.twitter.com/EU5Wtgtpg7

— The Weather Channel (@weatherchannel) June 23, 2015
Numerous highways across a number of states were also closed to traffic.
However, according to a weather expert, such storms are not uncommon in these parts of the US during the early summer months.
"May through July is the peak for thunderstorm clusters with widespread damaging winds several hundreds of miles long, known as derechoes," said meteorologist Jon Erdman of weather.com.