US will provide weapons, aircraft, forces to NATO's rapid response force in E. Europe – Pentagon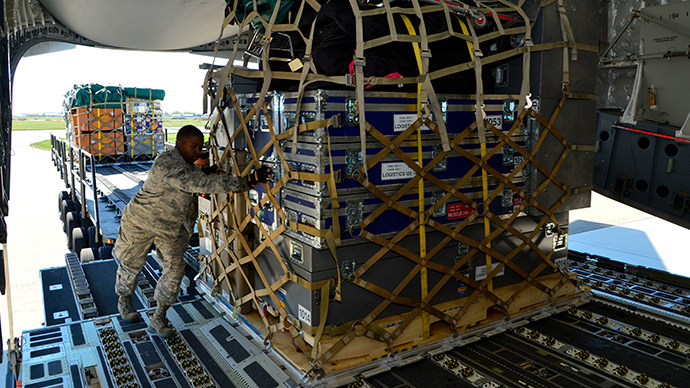 The US will provide special operation forces, aircraft and weapons for NATO's rapid reaction force based in Europe, said Defense Secretary Ash Carter. Washington's new contribution could result in the increase of US forces in Europe.
Washington will contribute intelligence and surveillance capabilities, special operations forces, logistics, transport aircraft and a range of weapons, Carter announced on Monday in Muenster, Germany after meeting with defense ministers from Germany, Norway and the Netherlands.
Under the plan the contributions would include precision joint fire capabilities ranging from land-based artillery to air support or naval firepower. However, he did not specify the number of troops that would be stationed or where they would come from.
Carter added that he plans to discuss the US contributions to NATO's rapid reaction force in Europe during his visit to Brussels later this week.
The new contributions could mean an increase in US forces in Europe, unnamed defense officials told AP and Reuters.
"We do so because the United States is deeply committed to the collective defense of Europe," Carter said.
NATO has been beefing up its forces in its eastern member states to counter what alliance commanders have repeatedly dubbed 'Russian aggression in Ukraine'. Following a NATO summit in Wales in September 2014, the alliance members agreed to create a rapid 4,000-strong force in Europe ready to be deployed within 48 hours.
READ MORE: NATO plans 40,000-strong rapid response force in E. Europe
However, the initial number of troops planned to be deployed has grown tenfold in less than a year. On Monday, Secretary-General Jens Stoltenberg announced that the Spearhead Force might reach 40,000 troops.
"NATO defense ministers ... [will] make a decision to further increase the strength and capacity of the 13,000-strong NATO Response Force (NRF) to 30,000 or 40,000 troops," he said adding that the final decision on the number will be taken on June 24-25 in Brussels.
On June 13, the New York Times released an article saying that the Pentagon could store "battle tanks, infantry fighting vehicles and other heavy weapons for as many as 5,000 American troops in several Baltic and Eastern European countries."
The piece came as the Spearhead forces were conducting its first military exercises codenamed Noble Jump in Poland. The drills involved about 2,000 soldiers and some 500 pieces of hardware, including tanks, jets and helicopters.
Russian President Vladimir Putin, in turn, announced plans to further strengthen the country's strategic nuclear armed forces. On Tuesday morning Putin stated that in 2015 Russia's strategic forces will be getting over 40 new intercontinental ballistic missiles (ICBMs).
READ MORE: Moscow will respond to NATO approaching Russian borders 'accordingly' – Putin
"If someone threatens our territories, it means that we will have to aim our armed forces accordingly at the territories from where the threat is coming. How else could it be? It is NATO that approaching our borders, it's not like we are moving anywhere," Putin said speaking at a joint media conference with Finland's President Sauli Niinisto in Moscow on Tuesday evening.
Despite the increase in NATO's military presence near the Russian border, Carter said on Monday that the alliance is not seeking a "cold, let alone a hot war with Russia."
"But make no mistake: we will defend our allies, the rules-based international order, and the positive future it affords us all," he added speaking in Berlin.
You can share this story on social media: