NJ town moves to douse protests after state politician turns sprinklers on demonstrators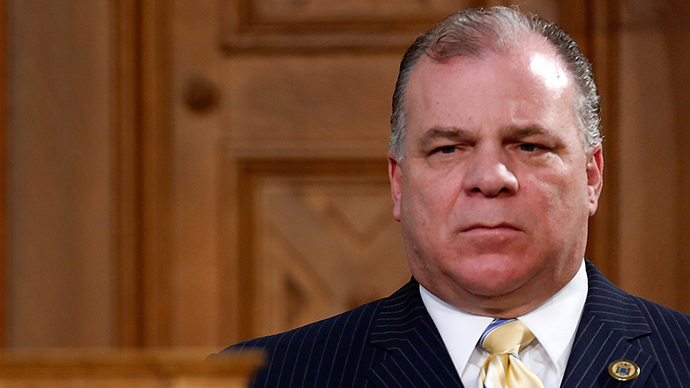 A New Jersey town quickly introduced an anti-protesting ordinance after the president of the state Senate turned the waterworks on gun-rights activists demonstrating outside his home. Both First and Second Amendment proponents are against the measure.
Protesters gathered outside the West Deptford, New Jersey home of state Senate President Stephen Sweeney the last two weekends, claiming that stringent state gun laws he had helped usher through the legislature were to blame for the June 3 stabbing murder of Carol Browne.
On Wednesday, the town introduced a proposed ordinance that would regulate picketing in residential areas, the Philadelphia Inquirer reported. In an overhaul of a 1971 loitering ordinance, the measure would ban "picketing that is targeted at and is within one hundred (100) feet of the property line of a residential dwelling."
NJ Women Continue to Protest @NJSenatePres Stephen Sweeney #Recall#CarolBownepic.twitter.com/I1TjZG0ALS

— Recall Sweeney (@RecallSweeney) June 15, 2015
Beyond that distance, picketing would be limited to no more than 10 people for"one hour every two weeks,"and the West Deptford police would have to be notified at least 24 hours in advance. Violators would be subject to fines of up to $2,000, imprisonment of up to 90 days, or up to 90 days of community service.
Critics contend that Sweeney is receiving special treatment from the township, which they say is attempting to squash citizens' First Amendment right to assembly with the proposed ordinance.
"You are taking away our constitutional rights," Joann Priga, 67, a retired church administrative assistant, told the West Deptford Township Committee.
READ MORE: New Jersey city runs out of cash for gun buyback program
Democratic Deputy Mayor James Mehaffey said the township had information that the protests were going to get "larger and more direct," while the town police department says it doesn't have the manpower to assign an officer to a spontaneous protest.
"We would do this for anyone," Mehaffey told the Philadelphia Inquirer.
Police Chief Samuel DiSimone told the committee that each shift has a minimum of three officers and a maximum of six, and that assigning an officer to a protest would limit the department's ability to respond to other incidents, according to the Philadelphia Inquirer.
"We are trying to protect everybody," DiSimone said. "For me, it's manpower issues. It doesn't matter who the person is."
And assigning an officer may be necessary if more demonstrations turn out like the one in front of Sweeney's home this past Sunday. Videos posted by the New Jersey Second Amendment Society (NJ2AS) showed that Sweeney's wife, Patti, asked the approximately 30 protesters to leave, as they were upsetting the couple's daughter. Patti also told the group to protest at her husband's office and at the state Capitol.
"You have no right to do this to us," Patti said.
When Sweeney got home, he turned his lawn sprinklers on protesters who refused to disperse. The Senate president told the Newark Star-Ledger that he had watered down the people in front of his house because his daughter, who has special needs, was frightened and crying.
"We were peacefully protesting ‒ no chanting, no screaming, no megaphones. We were just holding signs," NJ2AS President Alexander Roubian told the New York Daily News. "We were soaked, and we loved it. I wish I had known ahead of time. We would have brought our bathing suits."
Roubian's organization was protesting in front of Sweeney's house in response to the murder of Carol Browne, who was stabbed to death by her ex-boyfriend, Michael Eitel, in her own driveway. Browne had attained a restraining order against Eitel, installed a security system and, in April, applied to obtain a handgun. However, police had not managed to conduct her background check, which by law must be completed within 30 days, by the time she was killed. Many New Jersey townships take two to three months to complete their investigations, including the Berlin Township where Browne lived, the Star-Ledger reported.
NJ2AS blames Sweeney for Browne's death, saying that the state's strict gun laws had made it impossible for her to defend herself against her killer, who was found dead days after Browne was murdered, according to the Philadelphia Inquirer.
"No one helped her" - NJ2AS President, Alexander Roubian.Posted by New Jersey Second Amendment Society on Wednesday, June 10, 2015
Not all gun-rights activists approve of the group's protest, however. Robert W. Theisen, a member of the National Rifle Association, wrote a letter to the editor of the South Jersey Times supporting Sweeney.
"When I was experiencing an unreasonable delay in receiving a replacement state firearms card, I wrote to Sweeney to intervene on my behalf. Within two weeks, I received my card," Theisen wrote. "I am sure Sweeney would not have hindered the woman from Berlin in getting her firearms card. State code requires a response to be made in 30 days for such cards. The agencies should be required to adhere to the law."
"Instead of the NJ2AS protesting in front of Sweeney's home, they should have demonstrated in front of the state Capitol Building in Trenton," he concluded.
The proposed ordinance passed Wednesday night with the township committee's three Democrats approving it and the two Republicans opposing it. A final vote is expected later this month.