If gun laws passed after Newtown, we would have more Americans with us – Obama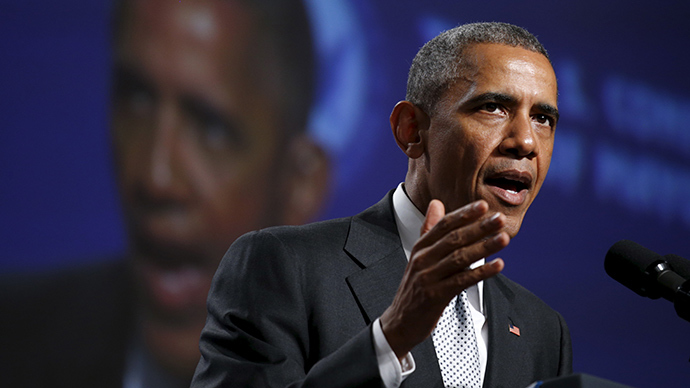 US President Barack Obama said that if control laws were passed by lawmakers after Sandy Hook school shooting in Newtown, Conn., some deaths might have been prevented around the country. He also said that public opinion needs to change regarding guns.
President Obama spoke at the US Conference of Mayors in San Francisco, two days after nine people were shot dead at a church in Charleston, South Carolina.
READ MORE: Charleston shooting suspect made racist statements, 'planned' attack for 6 months
"The nature of this attack in a place of worship, where congregants invite in a stranger to worship with them, only to be gunned down, adds to the pain. The apparent motivations of the shooter remind us that racism remains a blight that we have to combat together. We have to be vigilant because it still lingers… It betrays our ideals and tears our democracy apart," Obama said.
The president spoke before mayors from cities around the country with populations of 30,000 or more.
"These tragedies have become far too commonplace. Few people understand the toll of gun violence like mayors do. Whether its individual attacks or mass shootings like Charleston. It costs this country dearly. More than 11,000 Americans were killed by gun violence in 2013 alone. If Congress had passed commonsense gun safety after Newton, reforms that 90 percent of gun violence Americans agree with, we might still have some more Americans still with us," he continued.
The president said that gun owners should not be demonized, as they are "overwhelmingly law-abiding".
"We need a change in attitudes. Among everybody, lawful gun owners, those familiar with guns. We have to have a conversation on this. Congress follows public opinion. We've seen public opinion change. We as a people have got to change. That's how we honor those families, that's how we honor those families in Newtown and in Aurora," Obama said, noting that "it was very unlikely for this Congress to act."
President Obama is referring to two mass incidents that are still in the country's recent memory, with the Charleston incident opening up new wounds. In July 2012, James Eagan Holmes opened fire in a movie theater in the town of Aurora, Colorado, killed 12 and injuring 70 others. Homes' trial is still ongoing.
Newtown, Connecticut suffered a similar tragedy in December of the same year, when 20 students and six staff at Sandy Hook Elementary School were killed by 20-year-old Adam Lanza, who died at the scene from a self-inflicted gunshot wound.