Roll on, 18-wheeler: US gov't proposes new fuel, emissions standards for big rigs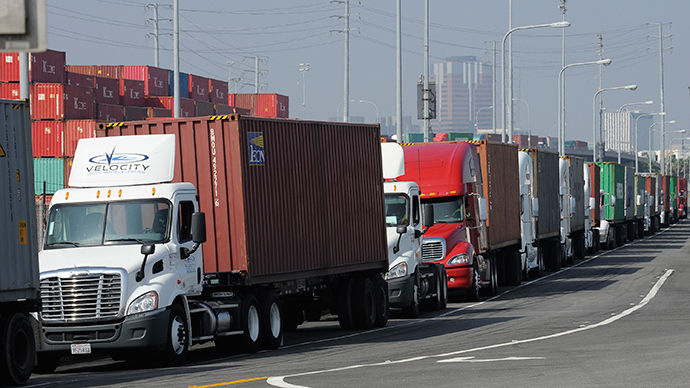 Obama administration officials proposed tougher fuel efficiency and emissions limits for trucks and buses, responsible for almost a quarter of carbon dioxide emissions on US roads. Compliance costs will be offset by better fuel economy, officials said.
According to the proposal by the Department of Transportation (DOT) and the Environmental Protection Agency (EPA) announced Friday, heavy trucks built in 2021 and beyond will need to have 24 percent fewer CO2 emissions and 24 percent greater fuel efficiency than models compliant with standards set to take effect in 2018.
Regulators hope the changes would reduce greenhouse gas emissions by 1 billion metric tons, while delivering fuel cost savings of $170 billion, or 1.8 billion barrels of oil. The regulations will apply to tractor-trailers, large pickup trucks and vans, and all types and sizes of buses and work trucks. The EPA estimates the improvements will cost up to $12,000 for the largest trucks, but estimates the fuel savings will offset the expense within two years.
#Obama Administration takes next steps to #ActOnClimate w/ @EPA@NHTSAgov standards http://t.co/5yCotwvAEBpic.twitter.com/3A80GMs8N8

— DOT.gov (@USDOT) June 19, 2015
"Once upon a time, to be pro-environment you had to be anti-big-vehicles. This rule will change that," said US Transportation Secretary Anthony Foxx. "In fact, these efficiency standards are good for the environment – and the economy. When trucks use less fuel, shipping costs go down."
Trucks are a crucial component of the US economy, hauling 70 percent of all freight in the country, according to government figures. However, while accounting for only five percent of vehicles on the roads, medium- and heavy-duty vehicles generate 23 percent of all greenhouse gas emissions, warns the DOT.
Environmental groups hailed the decision as helpful to countering climate change, saving consumers money and spurring innovation. Sara Chieffo from the League of Conservation Voters said the proposal "marks another important step in the Obama administration's plan to curb carbon pollution and combat climate change. A more efficient truck fleet will save money on shipping, driving down costs for companies and consumers."
"We will be pushing the administration to require compliance sooner, in order to deliver these benefits more quickly," Rhea Suh, president of the Natural Resources Defense Council, said in a statement.
New @EPA truck standards are good news for consumers, truckers & climate. But there's room for improvement: http://t.co/hIJ3S5TMkW

— Sierra Club (@sierraclub) June 19, 2015
Reactions from the truck makers and freight companies have been positive as well. However, manufacturers are divided on whether the standards should apply only to the engines, or include the trucks and the trailers.
Many shipping companies currently own the trailers and lease them to independent operators, who shoulder the cost of fuel and maintenance, meaning the companies have little incentive to invest in better fuel efficiency. A 2012 University of California-Davis study found that roughly 23 percent of tractor-trailers in the US are in this sort of principal-agent relationship.
READ MORE: Destroyers of the environment will face God's judgment – Pope
One of the reasons that the truckers and truck makers welcomed a national standard was that California was pushing for even stricter guidelines. "Everyone from the federal government to the manufacturers to fleet owners and the state of California wants to see a national standard," a manufacturing executive told Reuters recently.
"Fuel is an enormous expense for our industry — and carbon emissions carry an enormous cost for our planet," Bill Graves, president of the American Trucking Associations (ATA), said in a statement. The ATA supports the proposed rules, but says it wants to make sure that the government would not mandate untested technology.
Janet McCabe, head of the EPA's air pollution office, told The Hill the truck makers may need to use new technologies not yet commercially available in order to meet the proposed mandates, but said the regulators hop the technologies will be available in time.
According to the EPA, the reductions in greenhouse emissions proposed by the new mandate will come close to equaling the annual energy use by all US homes, while the total oil savings would amount to a year's worth of US imports from OPEC countries.
The new measures are based on the fuel efficiency and greenhouse emissions standards already in place for models manufactured between 2014 and 2018, which the government says will result in emissions reductions of 270 million metric tons of CO2, and fuel savings of over $50 billion.