​Vigils held across country for victims of Charleston shooting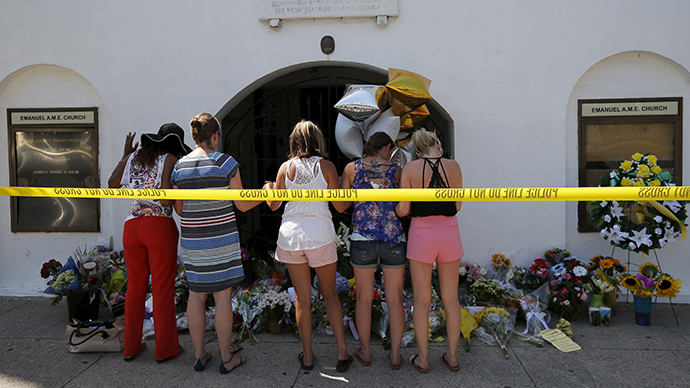 Vigils are being held in the Charleston, South Carolina area and across the country for victims of a tragic shooting at a historic black church.
Nine people were killed and one injured when a shooter opened fire during a Bible study session at the Emanuel African Methodist Episcopal Church in Charleston on Wednesday night.
Rev. Clementa Pinckney
The Reverend Clementa Pinckney, 41, was also a state senator for South Carolina; the youngest in South Carolina's history, according to Time.
Join me in prayer for comfort for the family of Sen. Clementa Pinkney and his fellow victims. http://t.co/DZgajlxkifpic.twitter.com/56leW2mUY7

— Alan Clemmons (@RepAlanClemmons) June 18, 2015
Sharonda Coleman-Singleton
The assistant pastor of the church, 45-year-old Sharonda Coleman-Singleton was killed while leading the Bible study class. She was the mother of three and the track coach at the local high school.
SHE HAS A NAME: A mother of three, pastor + high school track coach, Sharonda Coleman-Singleton was killed at AME. pic.twitter.com/rvXe1y33Ry

— Michael Skolnik (@MichaelSkolnik) June 18, 2015
Her son Chris tweeted about her on the night of the shooting.
Something extremely terrible has happened to my mom tonight, please pray for her and my family. Pray asap

— Chris Singleton (@csingleton__2) June 18, 2015
Tywanza Sanders
Tywanza Sanders was a 26-year-old barber who had recently graduated from Allen University in Columbia, South Carolina with a degree in business administration. He died while trying to save a family member during the incident, accordingto BuzzFeed News.
Tywanza Sanders graduated Allen U, died trying to save family member. Say his name. Remember him. #CharlestonShootingpic.twitter.com/LS7XlEaEHM

— joshua (@mashdots) June 18, 2015
Ethel Lee Lance
Ethel Lee Lance, 70, a sexton of the church, also lost her life.
"She's a Christian, hardworking; I could call my granny for anything. I don't have anyone else like that," her grandson Jon Quil Lance told The Post and Courier outside Medical University Hospital.
She had worked at the church for more than 30 years, he told the newspaper.
SHE HAS A NAME: Ethel Lee Lance, worked at Emanuel AME Church in Charleston for 30 years. She was killed last night. pic.twitter.com/7OHjsnhD8f

— Michael Skolnik (@MichaelSkolnik) June 18, 2015
Cynthia Hurd
Cynthia Hurd, 54, who had worked as a librarian for 31 years, was killed in the shooting. She had been serving as the manager of the St. Andrew's Regional Library since 2011.
"Cynthia was a tireless servant of the community who spent her life helping residents, making sure they had every opportunity for an education and personal growth," the library said in astatementon Facebook.
This Sunday would have been Cynthia Hurd's 56th birthday… one of 9 killed in SC church shootings. pic.twitter.com/7WXot9hI5T

— Dave Wagner (@DaveWagnerTV) June 18, 2015
Myra Thompson
Myra Thompson, 59, was also killed at the Bible study group.
Pray for the Rev. Anthony Thompson, Vicar, Holy Trinity REC (ACNA) with the killing of his wife, Myra, in the #CharlestonShooting#Anglican

— ACNA (@The_ACNA) June 18, 2015
Rev. Daniel L. Simmons Sr.
The Revered Daniel L. Simmons Sr., 74, a retired pastor from another Charleston church, who was on the ministerial staff at AME, died in the shooting.
Retired Rev. Daniel L. Simmons Sr was killed at Emanuel AME in Charleston last night. #RIPhttp://t.co/IBJVsioimLpic.twitter.com/WWxRc9Wqbq

— Katie Zavadski (@katiezavadski) June 18, 2015
Rev. DePayne Middleton-Doctor
The Reverend DePayne Middleton-Doctor, 49, was also one of the victims of the shooting. She was a minister and the mother of four daughters.
Rev. DePayne Middleton-Doctor was mother of 4 & admin. coord.@ SWU. 'A warm, enthusiastic leader'#CharlestonShootingpic.twitter.com/jNghUWs0C0

— sonja parks (@miz_parks) June 18, 2015
Susie Jackson
Susie Jackson also had her life taken. She was 87, making her the oldest of the victims.
87-year-old Susie Jackson recently visited family in Cleveland. (via @Kristin_Volk) #RIPhttp://t.co/ipfxIZJVPCpic.twitter.com/OYOon1f8MR

— Katie Zavadski (@katiezavadski) June 18, 2015
You can share this story on social media: