Bush-era officials can be sued for abuse of 9/11 detainees – court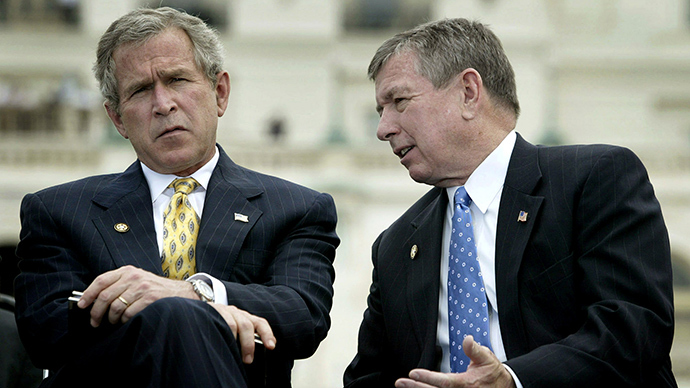 A federal appeals court reinstated a lawsuit against former Justice Department and law enforcement officials for violating the rights of men perceived as Arab or Muslim who were rounded up after 9/11 and held for months, sometimes in solitary confinement.
In a 2-1 ruling, the Second Circuit Court of Appeals decided that Bush-era heads of the Department of Justice, FBI and Immigration and Naturalization Service (INS), can be sued for violating the constitutional rights of 762 men, described as "out-of-status aliens" because they either overstayed their visas or worked without permits.
The case, known as Turkmen v. Ashcroft, was filed in 2002 by the Center for Constitutional Rights (CCR). It names as defendants the former Attorney General John Ashcroft, former FBI Director Robert Mueller and former commissioner of the Immigration and Naturalization Service James Ziglar. The CCR is also suing the officials in charge of the Metropolitan Detention Center (MDC) in Brooklyn, New York, and the Passaic County Jail in Paterson, New Jersey, where the plaintiffs were being held for anywhere from three to eight months.
Appeals court: Immigrants unlawfully imprisoned after 9/11 can sue Bush admin officials. http://t.co/LEy5fKVfpi Nice work, @theCCR

— Jameel Jaffer (@JameelJaffer) June 17, 2015
A federal court dismissed the case in 2013, after concluding there was no evidence the officials had any "intent to punish" the plaintiffs. However, the Second Circuit Court of Appeals reversed that decision, ruling that the Justice Department officials were not entitled to "qualified immunity," and that the confinement conditions of the immigrants were actually established with "punitive intent."
"We believe, then, that the challenged conditions—keeping detainees in their cells for twenty‐three hours a day, constructively denying them recreation and exposing them to the elements, strip searching them whenever they were removed from or returned to their cells, denying them sleep by bright lights—were not reasonably related to a legitimate goal, but rather were punitive and unconstitutional," judges Rosemary Pooler and Richard Wesley wrote in the majority opinion.
READ MORE: Senate votes to ban waterboarding and other forms of torture
Pooler and Wesley said the government officials presumed that "all out‐of‐status Arabs or Muslims were potential terrorists until proven otherwise," and justified the detentions on national security grounds.
The lawsuit claims the mass detentions were part of the FBI's "hold-until-cleared policy," holding the men described as "potential recruits" for Al-Qaeda solely because of their Middle Eastern, North African, or South Asian origin. Of the eight current plaintiffs, six are Muslim, one is Hindu, and one is Buddhist.
"It might well be that national security concerns motivated the defendants to take action, but that is of little solace to those who felt the brunt of that decision," the two judges wrote.
"We are thrilled with the court's ruling," said CCR attorney Rachel Meeropol. "The court took this opportunity to remind the nation that the rule of law and the rights of human beings, whether citizens or not, must not be sacrificed in the face of national security hysteria."
Benamar Benatta, one of the plaintiffs, said he was "delighted" by the ruling. Cleared for release on November 14, 2001, Benatta remained in solitary confinement until April 30 the following year.
Federal appeals court revives lawsuit against Bush officials for post-9/11 abuse of immigration detainees http://t.co/3JKRe92o7h

— Kevin Gosztola (@kgosztola) June 17, 2015
Judge Reena Raggi disagreed with the majority ruling, and said the Congress was the right authority to decide whether aliens had standing to sue individual government officials for monetary damages.
After the terrorist attacks of 9/11, the law "did not then clearly alert federal authorities responding to these challenges that they could not hold lawfully arrested illegal aliens—identified in the course of the 9/11 investigation and among the group targeted for recruitment by Al-Qaeda—in restrictive (as opposed to general) confinement pending FBI-CIA clearance of any ties to terrorism unless there was prior individualized suspicion of a terrorist connection," Raggi wrote in her dissenting opinion.
"Indeed, I am not sure that conclusion is clearly established even now," she added.
You can share this story on social media: