Army shipped live anthrax for 10 years, couldn't effectively kill bacteria - CDC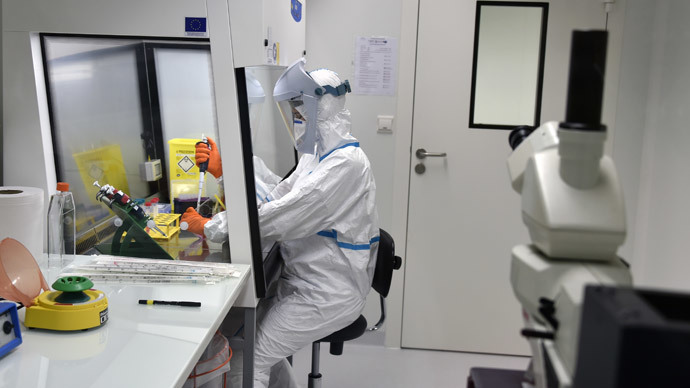 ​A US Army research facility mistakenly shipped live anthrax to labs in the US and abroad for more than 10 years because of ineffective sterilization methods for killing the deadly bacteria, according to a federal report obtained by USA Today.
In the three-page report from the Centers for Disease Control and Prevention, the US Army facility in Utah was cited for three violations of federal regulations for working with potential bioterror agents, and was ordered to cease shipment of "inactivated" anthrax specimens immediately.
The Dugway Proving Ground's Life Science Test Facility is at the center of the scandal. It was initially reported to have shipping live anthrax to at least 51 labs in 17 states and three countries – Australia, Canada and South Korea. However, the newly divulged CDC report shows that anthrax was shipped out at least 74 times to dozens of labs in the US and at least five foreign countries between January 2005 and May 2015.
READ MORE: Live anthrax sent to 51 labs in 17 states and 3 nations - Pentagon
According to the report, Dugway scientists were using Cobalt 60 gamma radiation to kill or deactivate anthrax specimens before shipping them to government or private labs for further research. But its procedures for irradiating anthrax "did not account for the variable amounts of spores treated in the gamma cell irradiator," noted the report. Additionally, those standard procedures failed to account for spore samples "at varying concentrations, volumes and levels of irradiation."
If inhaled, anthrax spores can be fatal, but so far there have no reports of infections. About 31 people who worked with the specimens are on antibiotics as a precaution.
USA Today contacted the military for comment on the report's findings, but they declined to comment.
"We are conducting an investigation of this matter, and the CDC report is a component of that investigation," said Army Col. Steve Warren, a Pentagon spokesman.
A spokesperson for the CDC's Division of Select Agents and Toxins, which authored the report and regulates labs working with potential bioterror pathogens, said the agency had shared its report with the military but had no further comment.
You can share this story on social media: