Ohio cops accused of brutality for arresting pregnant woman, 12yo girl at swimming pool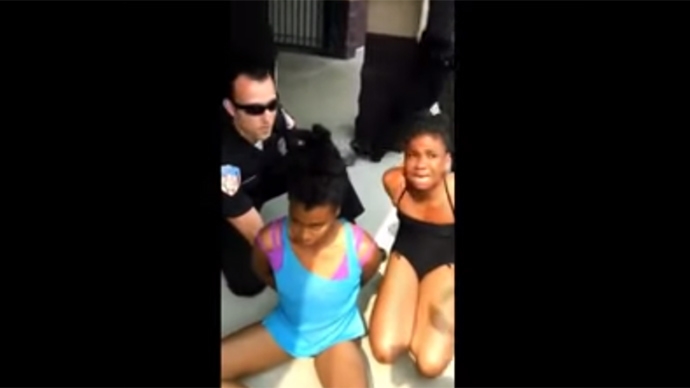 Police used excessive force and pepper spray on a pregnant woman and several children, who allegedly resisted arrest at a Fairfield, Ohio pool. The woman's attorney accuses the officers and pool staff of racism.
Krystal Dixon, 33, and her sister Maya, 34, pleaded not guilty to charges of resisting arrest and disorderly conduct in court on Wednesday morning. A police report says Krystal "aggressively confronted pool staff" on June 9, after being asked to leave because of her children's misbehavior, according to the Dayton Journal-News.
One police officer who intervened says he was physically attacked by the sisters, as well as some of the children. A boy, 15, and a girl, 12, were also charged.
Almost nine minutes of video footage recorded by the Dixons was made public, with the women's attorney Clyde Bennett saying the evidence clearly shows his clients not breaking the law or acting violently. Bennett asked the city to dismiss the charges "so the community can move on."
"If a person is behaving in a legal manner, you can't just grab them. You can't just say 'come here' and snatch them. That's unconstitutional," Bennett said. "If you want to go through a trial, that's fine. I don't have a problem with a trial, but it shouldn't go that far," he told local news station WLWT.
Fairfield is a community about 25 miles north of Cincinnati. The incident took place about a week after police in McKinney, Texas forcefully dispersed a group of African-American teenagers at a pool party. Eyewitness video shows a police officer throwing a girl on the ground and sitting on her back. Officer Eric Casebolt resigned following the public outcry over the incident.
READ MORE: Outrage as Texas cops break up teenage pool party, violently force black girl to ground
Bishop Bobby Hilton, head of the Word Deliverance Ministries in Forest Park and member of Reverend Al Sharpton's National Action Network, held a news conference on Tuesday and showed some of the Dixons' video footage. Hilton also claimed the 12-year-old girl suffered a jaw and rib fracture from the incident, but later dropped the allegations.
Fairfield Police Chief Michael J. Dickey said the video clips only reinforced his opinion that the officers acted appropriately.
"All they are trying to do is calm everyone down," Dickey told the Cincinnati Enquirer. "It's just business." He rejected all allegations that anyone was injured in the incident, beyond temporary discomfort from the pepper spray used by the officers.
"This is an unfortunate situation and our officers had a tough situation there," added Fairfield Mayor Steve Miller. "But I think they did a good job in showing restraint."
Police departments need a complete overhaul. People are not going to continue to accept being treated like... http://t.co/tJdb47RLST

— Crescent (@CrescentSpeak) June 17, 2015
According to Dixon, she brought eight children to the aquatics center around 3 pm, and then went to pick up her sister. One of her nephews did not have swimwear and was asked to leave. When Dixon returned, pool staff told her the boy had broken the rules by swimming in his clothes and asked the family to leave because the other children had misbehaved when informed of the violation.
A park ranger who came to ask Dixon to leave asked her to show him her identification. When she did not, he threatened to arrest her and took her by the arm. At that point, several of the children tried to step in, and the staff called 911.
The police released a recording of the 911 call by one of the pool employees, a woman on the verge of tears, who said a group of children was fighting with the officers and asked for backup "immediately."
"They're videotaping, trying to make it look like a racist thing, and it's not at all. They were breaking our policies. We told them they couldn't be here anymore, and it's really scary and I don't feel safe," the caller says.
I don't get this point in the Fairfield pool story: If I refuse to give police my ID, they can detain me? http://t.co/sGO0BM8bva

— Jeremy Fugleberg (@jayfug) June 17, 2015
Dixon's attorney, Clyde Bennet, was skeptical of the policy violation explanation. "I'm not convinced that's why they wanted them out of the pool," he told the Daily Beast. "There's a lot of people in Cincinnati who believe they wanted them out … because they were black."
Krystal and Maya Dixon were allowed to remain free on their own recognizance and are due back in court for a pretrial hearing on July 8.
You can share this story on social media: