Texas fracking site that spilled 42,000 gallons of fluid into residential area hopes to reopen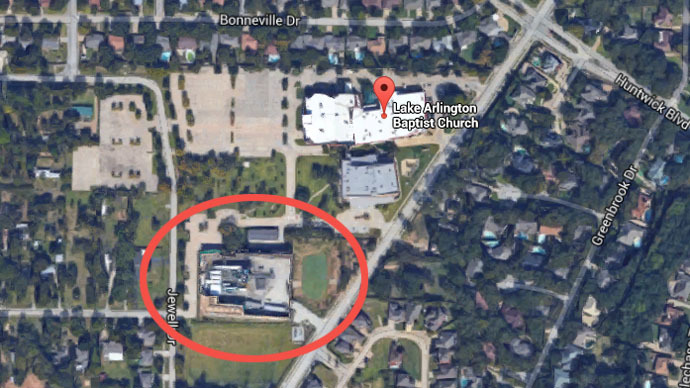 Investigators in Arlington, Texas blamed equipment failure for a fracking fluid spill that caused an evacuation of 100 homes in April. Owners of the facility hope to restart the drilling, but the local community is unhappy with the prospect.
Results of the investigation, released Tuesday, show the malfunction of a well head component on April 10 caused 42,800 gallons of fracking fluid to spill out of the well and into the streets and storm sewers of Arlington, a community just east of Fort Worth. Sealing the well took 24 hours and four attempts.
The drilling site is located in a residential area, next door to the Arlington Lake Baptist Church, and the local residents are alarmed at the prospect of future spills.
Report on #fracking well blowout in Texan residential area http://t.co/zYWPNi8Cyb & it wasn't the first.. pic.twitter.com/QWSmG4pKd3

— Frack Off (@Frack_Off) June 17, 2015
"There was a release of unpermitted materials into the stormwater system," Arlington Fire Chief Don Crowson told city council members at a meeting on Tuesday.
The investigation found that no natural gas leaked from the site, and that the pollution caused no lasting damage. However, Arlington officials were displeased that the well's operator, Vantage Energy, took two hours to call 911 after the spill. When the call finally came, it was not from the Arlington Lake site, but from Vantage's corporate headquarters in Pennsylvania.
READ MORE: Fracking to blame? Alabama earthquakes occurring near shale-gas developments
Chief Crowson called the city's relationship with Vantage "very good historically," but said the notification delay was "not acceptable."
"This is unacceptable behavior," said City Councilmember Robert Rivera. "The citizens of Arlington do not appreciate the lack of ability to control the site."
Crowson said he met with Vantage and other energy companies to ensure they got the message, according to local ABC affiliate WFAA. Vantage has agreed to reimburse the city $84,000, in addition to any fines from the three outstanding citations involving the incident.
However, WFAA says it obtained records showing another 1,500-gallon spill at the same site in March.
"I just assumed this was a residential area and it would be free from industrial hazardous operations," local resident Kim Feil told WFAA. "Now we see it's not."
Site of Arlington fracking fluid leak could soon reopen. http://t.co/tvXdFmTQQdpic.twitter.com/BgAUJcb2tm

— NBC DFW (@NBCDFW) June 17, 2015
Operations at the site have been suspended since the April accident. Drilling operations cannot resume until the site passes one final city inspection, NBC5 reported. Crowson said the residents will be notified when that happens.
Last month, Texas legislators passed a law prohibiting local jurisdictions from banning fracking and other oil and gas exploration activities. HB40 received a two-thirds majority vote in the Texas House and Senate, blocking efforts by 60 municipal governments to restrict drilling or fracking in some way.
The law includes exemptions for Forth Worth and Dallas, both of which passed setback ordinances that push surface drilling away from residential and commercial areas. Dallas does not permit drilling within 1,500 feet of homes, schools or churches. In Fort Worth, that distance is 600 feet.
You can share this story on social media: