Democrat's bill seeks to ban loaded guns in airports, overriding local laws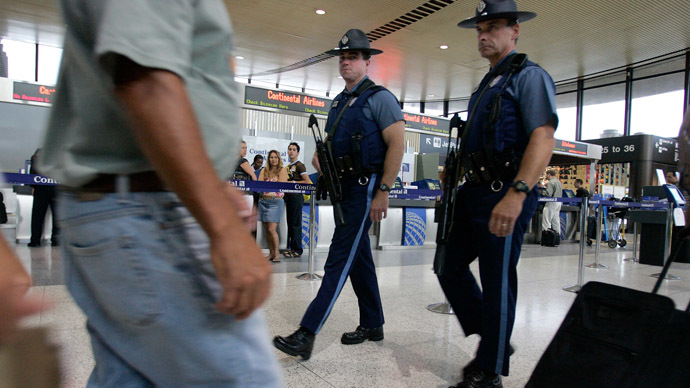 Rep. Hank Johnson (D-Georgia) introduced a bill that would ban loaded firearms in pre-security areas of airports. Currently, federal law only bars people from carrying armed guns past security checkpoints. Until then, local and state legislation applies.
The bill, which Johnson dubbed the 'Airport Security Act of 2015', would prohibit an individual from possessing a firearm at an airport covered by the Transportation Security Administration, and "would expand Homeland Security's jurisdiction to include non-secure areas of airports and would take precedence over any city or state laws that allow weapons in any airports nationwide," Johnson's office told The Hill newspaper. "The gun ban would include public transportation stops within airports if the gun owner departs the transit station at an airport."
Travelers would still be able to carry guns, as long as "the firearm is unloaded, carried in a hard-sided container that is locked, and the key or combination to the lock is in the exclusive possession of the individual." The traveler would also have to have a boarding pass for a flight within 24 hours of entering the airport or plans to purchase such a ticket. People shipping firearms for air commercial purposes would also be able to carry guns.
READ MORE: TSA to gun owners: Don't pack heat on planes, keep it in your checked bags
"Airports are the gateway to commerce throughout the world and the front door to the communities they connect for millions of passengers who visit the United States each year," Johnson said in a statement. "It defies logic that we would allow anyone other than law enforcement officials to carry a loaded gun within an airport. This bill is simple common sense."
Johnson introduced the bill in reaction to an incident in Atlanta, Georgia's Hartsfield-Jackson Airport at the beginning of June, the Atlanta Journal-Constitution reported.
At the beginning of June, Jim Cooley carried his AR-15 semi-automatic rifle fully loaded with a 100-round drum through the Atlanta airport. He was there to drop his daughter off for a flight, and proceeded to take photos and videos of himself carrying the weapon. He told WSB that he knew Georgia's gun laws did not prohibit his actions.
"You can carry in unsecured areas of the airport. Past TSA, never," Cooley said.
When a fire marshal asked Cooley why he was carrying the firearm, he told her it was for safety, he posted on Facebook.
"It shouldn't matter what I carry, just that I choose to carry," he told WSB. "You never know where something might happen."
Federal law does not bar citizens from carrying guns in airports before going through security. Until the checkpoint, local and state laws apply.
"Entering the checkpoint with a weapon is a violation of federal law," FBI Special Agent in Charge Britt Johnson told WSB.
Johnson decried Cooley's actions on the House floor on Monday.
"Two weeks ago, a man entered the world's busiest airport in Atlanta, Georgia, carrying a loaded AR-15 [semi-automatic] weapon with an extended-capacity 100-round magazine. He did so only to make a point, and that was to show that he was legally able to carry his firearm in the airport," Johnson said. "Mr. Speaker, actions like this, which follow shootings at airports in Los Angeles and Houston, undermine public security in the same way as yelling 'fire' in a crowded theater."
The Airport Security Act of 2015 already has 15 Democratic co-sponsors so far.
It's not the first time that Johnson has introduced an Airport Security Act, seeking to ban carrying firearms in TSA-supported airports. He proposed similar bills in 2010 and 2013.