Off to Arctic: Shell drilling rig leaves Seattle amid protest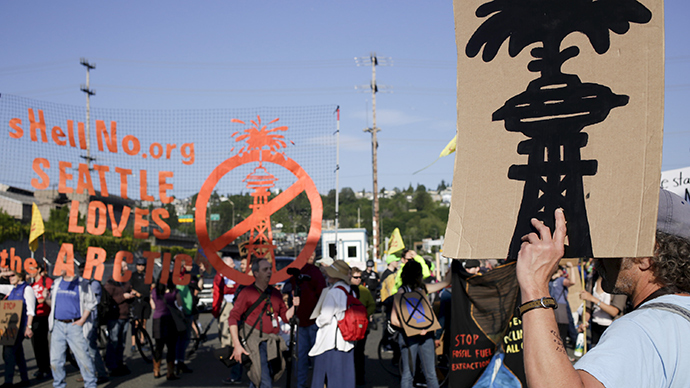 Royal Dutch Shell's oil rig Polar Pioneer has pulled out of Seattle's port to travel to the north of Alaska, where it is to conduct underwater drilling. Over a dozen Greenpeace protesters in kayaks tried to blockade its departure.
The "kayaktivists" paddled out to stop the Polar Pioneer at around 4 am local time on Monday, group spokeswoman Cassady Sharp told AP. She added that 40 to 50 supporters in kayaks and canoes lined up behind the blockade.
Shell arctic oil rig leaves Seattle, met by protesters http://t.co/jv26g1YzIb via @KING5Seattle

— Dorie Lincoln (@lincolndm) June 15, 2015
Shell monstrous tries to sneak out of Seattle unsuccessfully http://t.co/Dr7e8JYL1z#shellnopic.twitter.com/VFdGEEO2ra

— Greenpeace (@Greenpeace) June 15, 2015
Greenpeace said that 10 of its protesters were arrested, along with Seattle City Councilmember Mike O'Brien, local news station KIRO 7 reported. They were arrested after violating a rule that protesters must stay at least 500 yards away from the oil rig.
The group added that its "Shell No" banner was also confiscated.
Wow! As @Shell's rig leaves for #Arctic, people out on the water to block it http://t.co/XNyDwoTS5R#ShellNo#cdnpolipic.twitter.com/O3GL51286C

— Mike Hudema (@MikeHudema) June 15, 2015
The Polar Pioneer began moving around 6 am. Royal Dutch Shell hopes to use the rig for exploratory drilling in the Chukchi Sea, off Alaska's northwest coast.
The Greenpeace activists, who adamantly oppose offshore drilling in the Arctic, say the company plans to begin drilling in less than two weeks.
Greenpeace: RT AGarlandPhoto: CMMikeOBrien arrested by US Coast Guard during kayak blockade of the Arctic drilling… pic.twitter.com/ZUe82jv9tj

— Tiago Morais Morgado (@tmoraismorgado) June 15, 2015
This is not Shell's first encounter with environmental activists; the company's plans to drill in the waters off Alaska drew a similar demonstration in May. Activists have also twice chained themselves to a support ship in Bellingham, Washington, north of Seattle.
Meanwhile, Shell spokesman Curtis Smith says the company remains "committed to operating in a safe, environmentally responsible manner."