Snap that! Florida raccoon 'riding' alligator captured on camera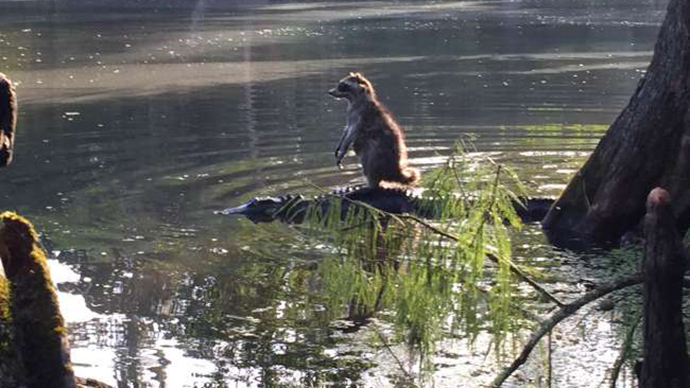 ​A Florida man took a most unlikely photo: he snapped a raccoon riding an alligator. Having been startled, the creature headed for the river and stood on what looked like a log. However, on closer inspection, it turned out to be an alligator.
Richard Jones was walking with his family in the Ocala National Forest in central Florida. They were by the Oklawaha River and were observing the alligators.
READ MORE: Fedor the pet raccoon takes Russian Instagram by storm (PHOTO, VIDEO)
The family were busy taking photos of their surroundings, before his son caused a commotion, which seemed to wake up the startled raccoon.
"It must have been asleep because it stumbled toward the water and hopped on top of the gator we were watching. I snapped a lucky picture right when the gator slipped into the water and before the raccoon jumped off and scurried away," Jones told the Florida Times Union publication.
Jones offered his photo to the paper free of charge. Since then it has become a sensation on social media, with the image having been posted on numerous sites.
The photographer dispelled rumors that the raccoon was looking to 'hitch a ride' across the river, saying it was all over in a second, as the raccoon scurried back into the sanctuary of the forest.