Police, emergency services evacuate Alitalia flight at JFK over 'bomb threat' (PHOTOS)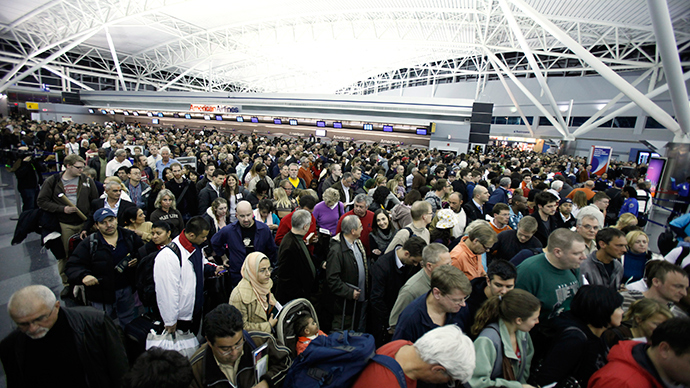 Police surrounded Alitalia flight 604 on its return from Italy to New York's JFK, ordering all passengers off the plane and onto busses without their bags. The airline confirmed receiving a "bomb threat," which was apparently deemed not credible.
Emergency services personnel, some reportedly wearing hazmat suits, boarded the plane from Milan immediately after it landed at John F. Kennedy International Airport and all the passengers were taken off without their baggage.
Queens: PAPD Staging for an incoming Alitalia Flight #604, Hazmat requested. #Breaking (via @politickrpic.twitter.com/jWqZO6E5NS

— NYC Scanner (@NYScanner) June 14, 2015
Numerous photos posted on Twitter show a large number of police and emergency vehicles surrounding the aircraft. According to some reports, the bags were taken off the plane by authorities, but were later put back on, as the passengers waited for some hour and a half in busses.
Momix directors are stuck on passenger bus at #JFK while Police investigate @Alitalia flight from Milan - pic.twitter.com/4yQl1Oe98Y

— MOMIX (@momix) June 14, 2015
#alitalia flight been inspected at #jfkpic.twitter.com/fHdAjTCX6b

— Carlos Forteza (@c_forteza) June 14, 2015
One of the plane's passengers, Maxim Sorin, told ABC 7 New York they had been allowed back on board shortly before 6 pm. He also mentioned the security personnel wearing hazmat suits.
#PAPD ESU WORKING ALITALIA BOMB SCARE AT JFK. pic.twitter.com/U3vzryDgew

— PAPBA (@PAPBA911) June 14, 2015
It was not immediately clear why authorities conducted the sudden safety check, after which the aircraft was allowed to taxi to the gate.
All passengers told to leave @Alitalia plane in #JFK field w/o bags. Tons of cops & fire rescue here w/ dogs. Unclear pic.twitter.com/kED3Q5MEAW

— Kira Brekke (@KiraBrekke1) June 14, 2015
However later the airline confirmed that TSA had informed them of a "bomb threat" against its flight, which is why emergency security procedures were initiated. "All passengers disembarked without any problem," the company announced.
Alitalia has been informed by the TSA of a bomb threat on its flight AZ604 Milan-JFK. Emergency procedures have been put in place. >>

— Alitalia (@Alitalia) June 14, 2015