3-year-old Ohio boy kills himself with mother's gun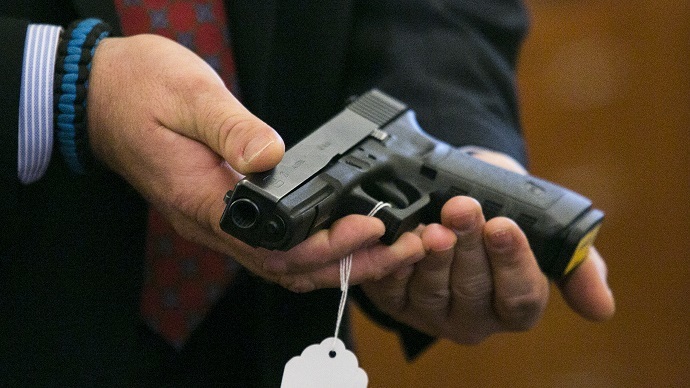 Three-year-old Marques Green killed himself while playing with his mother's handgun, Ohio police say. The boy fatally shot himself in the chest after finding the gun in his mother's purse.
The boy's mother made a 911 call reporting the incident on Thursday. The child was wounded in the chest and pronounced dead at hospital shortly afterwards.
Police released the audiotape on Friday, according to the Associated Press.
"My son just shot himself and I'm not getting a pulse," Elizabeth Green is heard screaming in the 911 call. "Oh, my God, Oh, my God, I'm not getting a pulse… I don't think he's alive."
"His eyes are open, but he's out," she added.
The mother told operators she kept the gun in her purse and had set it down before the tragedy happened.
"The gun is mine. It is in the house, I carry it in my purse, I laid it down. We just got home," the mother said.
No information has been released yet on the type of gun involved. The accidental shooting happened in town north of Cincinnati. The Butler County prosecutor's office has not said yet whether anyone should be charged in the case.
READ MORE: Woman shopping in Walmart shot and killed by her toddler
It is the second accidental shooting death of a child in Ohio. On the same day of the shooting a 16-year-old boy who was arraigned in juvenile court and charged with reckless homicide after the fatal shooting of a 14-year-old boy in southwest Ohio. Investigators believe that the boys were playing with the firearm when it discharged on June 3, striking Gabriel Mejia in the head. Mejia died last week from the injury.
Estimates are about 100 children die in the US every year in accidental shootings, according to data compiled by Moms Demand Action for Gun Sense in America.
You can share this story on social media: