US lawmakers ban aid to Ukraine neo-Nazis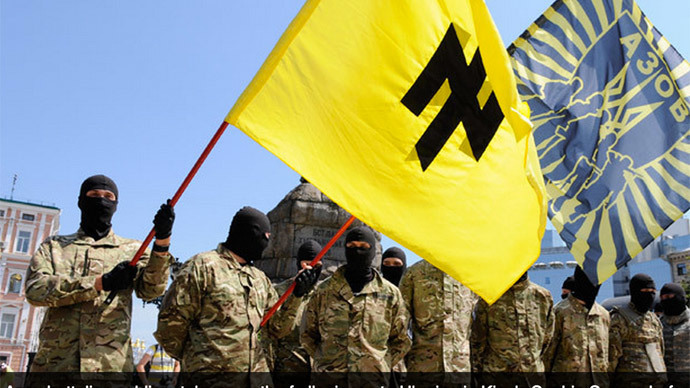 The House of Representatives unanimously adopted amendments to the US 2016 defense budget proposal, outlawing training and arming of Ukraine's notorious paramilitary "Azov" battalion. Russia hailed the decision as "better late than never."
Proposed by John Conyers (D-Mich.) and Ted Yoho (R-Fla.), the amendments to HR 2685, the "Department of Defense Appropriations Act of 2015, refer to "Azov" battalion as an "openly neo-Nazi" and "fascist," and prohibit US instructors from training or arming the controversial unit.
The amendments, intended to "protect civilians from dangers of arming and training foreign forces," also ban US exports of shoulder-fired anti-aircraft rockets, known as MANPADS, to Iraq and Ukraine.
House passed my amendment to prohibit assistance to Azov Battalion—a far-right white supremacist militia at front lines of Ukraine conflict

— John Conyers (@repjohnconyers) June 11, 2015
"Overzealous military assistance or the hyper-weaponization of conflicts can have destabilizing consequences and ultimately undercut our own national interests," Congressman Conyers said in a statement.
"I am grateful that the House of Representatives unanimously passed my amendments last night to ensure that our military does not train members of the repulsive neo-Nazi Azov Battalion," he added.
US House Votes to Stop Training Ukraine's Nazi Azov Battalion. Does It Matter? http://t.co/ErYRgTc79w#Ukraine#UAFpic.twitter.com/nQYxGh8GxR

— Russia Insider (@RussiaInsider) June 12, 2015
Russia's Foreign Ministry praised the amendments, but noted they don't go nearly far enough.
"It took the American Congress more than a year to realize that this battalion is a gathering of blatant neo-Nazis parading Hitler's SS forces insignia," said spokesman Alexander Lukashevich. "But better late than never."
"The next logical step for them would be to recognize finally that last year's coup in Kiev, actively supported by Washington, was staged by the same neo-Nazi thugs," Lukashevich added. "Obviously, other units of Ukraine's National Guard are no better than 'Azov'."
READ MORE: 'It's his personal ideology': USA Today finds Nazis among Kiev's volunteer brigade
"Azov" was established in 2014 by the historian and firebrand political activist Andrey Biletsky, leader of the "Ukraine Patriot" movement who described his ideology as "social nationalism." After being incorporated into Ukraine's National Guard, the unit gained access to government funds and heavy weaponry.
The unit is easily recognizable by its use of the "Wolfsangel," or wolf hook, a German heraldic symbol used during WWII by two German SS divisions and the Dutch Nazi sympathizers. Another Nazi symbol on the "Azov" insignia is the Black Sun. The government in Kiev, however, insists that "ultra-radical groups and organizations are neither registered, nor identified" in the country.
Ukraine's Interior Minister Arsen Avakov wanted to specifically include "Azov" in the training program dubbed "Operation Fearless Guardian," run by US Army units in the west of Ukraine since April. The unanimously adopted amendments put forward by Conyers and Yoho outright ban any training or arming of the battalion.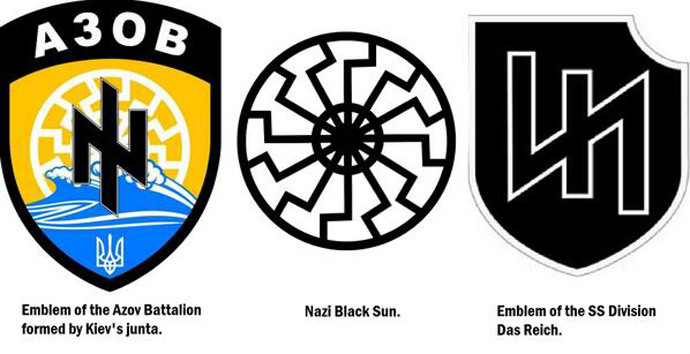 "The bloody crimes committed by Ukrainian neo-Nazis, who burned Odessa residents alive and who continue to kill women and children in Donbass, have long been speaking for themselves," said Lukashevich. "The only question is when Washington will decide to notice them."
@KatrinaNation Good for @repjohnconyers! Funding should be blocked for US to train anyone in Ukraine, though. Not just the Nazi loons.

— Daniel McAdams (@DanielLMcAdams) June 11, 2015
Last month, the House Armed Services Committee approved a proposal of the 2016 National Defense Authorization Act (NDAA) that would allocate $200 million to provide military aid to Ukraine, "including training, equipment, lethal weapons of a defensive nature, logistics support, supplies and services, and sustainment."
Unfortunately, there is a real possibility the Conyers-Yoho amendments may amount to nothing. The White House is opposed to the current form of HR 2685, arguing that it under-funds certain Pentagon programs while continuing others the Obama cabinet wants to shut down. "If the President were presented with HR 2685, his senior advisors would recommend that he veto the bill," the White House memo to Congress said.
You can share this story on social media: