One giant leap for Porn: Smut baron raising funds for first sex movie in space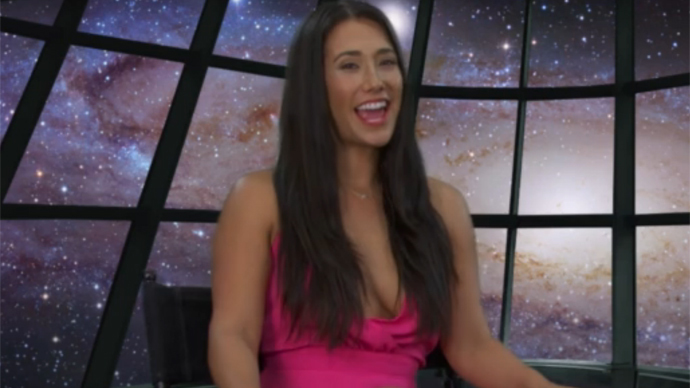 World-famous porn website Pornhub wants to take sex to space, and it needs your help! The site has launched a crowdfunding campaign to raise $3.4 million for the world' first gravity-defying skin flick.
"What's it like to orgasm in zero gravity, and what happens when you get it on in outer space?" a visibly thrilled, fund-seeking Eva Lovia asks viewers, as she and co-star Johnny Sins brace to become the first ever adult movie stars-slash-astronauts.
The impassioned indiegogo appeal is getting some serious cash already: nearly 700 people in just two days have managed to raise close to $14,000. That's out of the required $3.4 million, with a target deadline of 60 days and an earliest estimated production target of May 2016.
But PornHub isn't kidding – they need a serious budget for this.
Teaming up with prominent adult movie distribution company Digital Playground to "join the ranks of Armstrong and Gagarin" and make the first porn movie in space. So serious that real space suits are going to be worn, and a porn website will become the first ever official chronicler of sex in orbit, and at zero gravity – which is an achievement in itself.
And in case there are still people out there who think pornography is watched mostly by teens who can't score sex – think again: the donations and associated goodies you get range from $1, which gets you a Certificate of Endorsement, whereas a whopping $150,000 will score you one of the two real space suits Eva and Johnny will wear.
"Our work is definitely cut out for us. We need to train and outfit our crew, consult with a dedicated team of specialists, purchase custom modified film equipment, and completely fund the use of the shuttle that'll take us on our journey to space," PornHub explains on the campaign page.
READ MORE: Down and out: Pornhub forced to take down controversial billboard in Times Square
"We've projected that the overall cost of this pioneering endeavor will run us about $3.4 million. By supporting us through the purchase of one (or several!) of our amazing perks, you have the opportunity to be a part of the most epic sex adventure ever caught on tape, causing lives to change, mouths to drop, and boundaries to be broken," it writes.
There is also a breakdown of what the $3.4 million will go towards. Rather unsurprisingly, the lion share of the money is needed for the space flight, with nearly every other aspect enabling production ranging from about 2-10 percent.
A lot of the science is being kept hush-hush, or is simply unknown at this point. What cab be said is that the production will really be shot in space, and the creators aim to do the sex part, as well as the climaxing, in the short space of time there will be zero gravity – when the ship reaches its maximum altitude, as the creators explain, PornHub told Business Insider.
"Our actors will be having sex and climaxing within that time frame – ideally, of course. Thankfully we have a very experienced production crew and directorial team to help make the money shot happen in a way that looks dynamic and revolutionary for viewers," PornHub said.
The world-famous website is no stranger to the headlines. Last September, it had to take down a Times Square billboard just hours after it was put up – the slogan read: "All you need is hand", with a heart sign and logo depicted below. It later turned out that a nearby Hilton hotel had a problem with it.