DHS whistleblower 'almost loses child' for probing immigration & corruption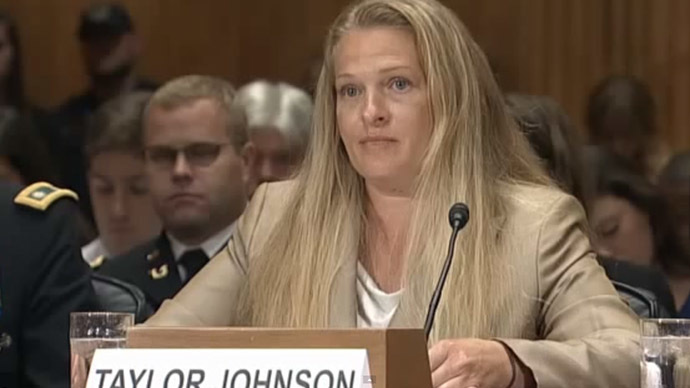 After voicing concerns about an obscure US immigration program for foreign investors, a Department of Homeland Security agent says she was barred from owning a personal firearm and almost lost custody of her one-year-old adopted daughter.
Taylor Johnson, a senior special agent with a division of the Immigration and Customs Enforcement (ICE), testified before the Senate Committee on Homeland Security and Governmental Affairs on Thursday. She was at a hearing alongside several other whistleblowers who claim that they have also faced harassment for speaking out against their agencies wrongdoings.
Johnson told the committee her problems started after investigating the so-called EB-5 program, which offers visas to foreign investors. When she questioned whether visas were being approved with enough scrutiny, her managers began to receive complaints about her queries. She was removed from the investigation and the case was closed.
"Some of the violations investigated surrounding the project included bank and wire fraud, and I discovered ties to organized crime and high-ranking politicians and they received promotions that appeared to facilitate the program," Johnson testified.
The whistleblower discovered that "EB-5 applicants from China, Russia, Pakistan, Malaysia had been approved in as little as 16 days" and that case files didn't have "the basic and necessary law enforcement queries."
READ MORE: TSA whistleblower says agency operates on culture of 'fear and distrust' & lax security
Johnson told the committee her gun was confiscated. She mentioned her access to her workplace and government databases were revoked and the government vehicle she used was also taken away. "I was told I couldn't even carry or own a personal weapon, which is a constitutional rights violation," she added.
"When an adoption social worker tried to contact and verify employment, she was told that I had been terminated for a criminal offense," Johnson said, choking up. "I almost lost my one-year-old-child."
Johnson's testimony comes as the EB-5 program is already under intense criticism due to a report released in March by the DHS' inspector general John Roth. Roth's report concluded that Homeland Security deputy secretary Alejandro Mayorkas violated ethics rules by intervening as the head of USCIS on several occasions in EB-5 visa cases involving prominent Democrats, such as Senator Harry Reid and Governor Terry McAuliffe.
Mayorkas has since said, "I regret the perception my own involvement created." It is unclear however if Johnson's investigation concerned Mayorkas or any of his associates.
You can share this story on social media: