Texas police filmed grabbing phone, pepper spraying owner for no apparent reason (VIDEO)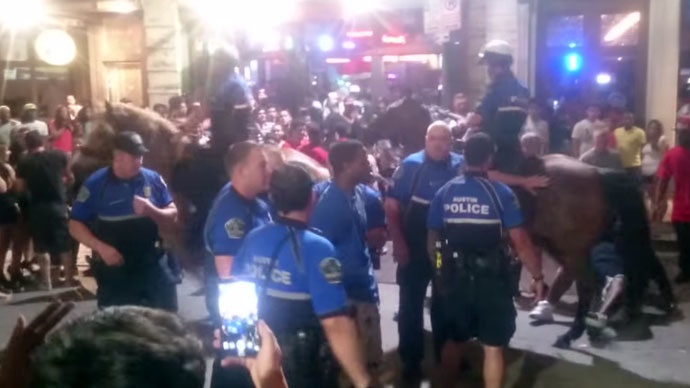 The Austin Police Department faces public condemnation after a video of police officers overreacting to a man filming their actions with a smartphone appeared on YouTube on Sunday, KTBC News reported.
The video, allegedly shot early Sunday morning in Austin's Sixth Street entertainment district, shows police and a mounted patrol controlling a crowd.
According to witnesses, the detention of a man in a crowded street prompted the incident.
After arresting a man "police pushed all back and started kicking people too close. Pepper spray/deterrent was used on a bystander, who was filming the incident, doing nothing," a witness told NBC News.
Austin PD said it would not comment on the detention.
The video shows that a mounted patrol officer grabbed the phone from a man standing in the crowd and filming the event, and then dropped the device. Another officer immediately sprayed the phone owner with mace while the man was trying to get his phone back.
READ MORE: Arrests, tear gas at NJ stadium as riot police face bottle-throwing youths
The video caused a wave of public indignation on the internet. In the comments to the video on YouTube, people wrote that it was appeared to be misconduct as the police had no reason to grab the phone and pepper spray the owner of the device.
YouTube users wrote that "this is the kind of police conduct that makes all the alleged 'good' cops look bad" and accused police officers of protecting only themselves instead of protecting citizens.
Other users spoke ironically about the situation: "Another poor, frightened police officer battles his worst foe – a citizen with a video camera. Watch as this terrified cop, armed only with a baton, gun, second gun, taser and horse - snatches a phone from the man recording him."
READ MORE: Outrage as Texas cops break up teenage pool party, violently force black girl to ground
Some users demanded the officers to be brought to account for their actions:
"These criminal thieves-in-blue need to be held accountable when they break the law, steal personal property, obstruct lawful recording in a public space, and assault innocent people…"
On Sunday, the police said, "the Austin Police Department is aware of this incident, and they are conducting a review to determine if the officer's conduct is compliant with our policy."
The reaction also caused public outrage: "Police [are] not even acknowledging what happened in this video. They are simply telling us that they will 'look into it," one YouTube user wrote.
This reports come as US police forces are involved in a series of scandals involving unwarranted violence by police officers against the public, including high-profile cases of African American people being killed, including the deaths of Freddie Gray in Baltimore, Michael Brown in Ferguson, Eric Garner in New York City and many others.
According to The Washington Post, in just five months of this year almost 400 people were killed as a result of police shootings, while the officers were charged in less than 1 percent of cases.
READ MORE: US police shot dead almost 400 people in 5 months – report
You can share this story on social media: