Putin intends to undermine NATO - Jt. Chiefs Chairman Dempsey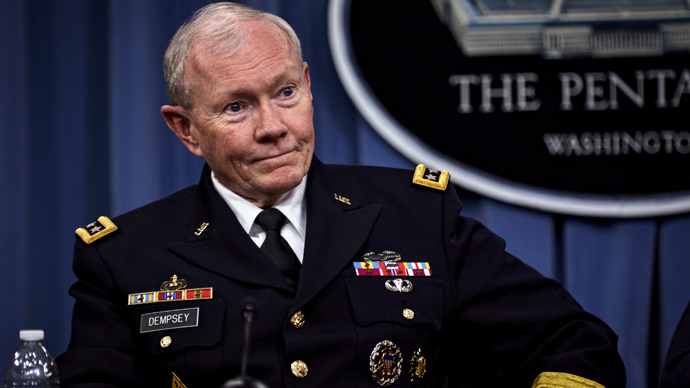 Russia is seeking to "discredit and eventually undermine" NATO, chairman of the Joint Chiefs of Staff Gen. Martin Dempsey said in an interview published shortly after President Vladimir Putin said only a madman would think of Russia as a threat to NATO.
"I can't tell you, as we sit here today, precisely what Putin and Russia intend to do," Dempsey said in the interview to the Wall Street Journal. "They have demonstrated some behaviors outside the international order that clearly indicate that they are willing to push beyond what most of the nations with whom we deal consider to be international norms."
Dempsey also called on the NATO allies to "harden against the subversive activities Russia has demonstrated its willingness to use."
READ MORE: US won't accept idea of global 'spheres of influence' – Biden
"We have the conventional threat posed by Russia's conventional forces," the Pentagon chief said.
"[Putin and Russia] have demonstrated some capabilities with long-range aviation and with their nuclear forces that are clearly intended to signal the nations in Europe and us of their willingness to consider all the instruments of military power," Dempsey said.
The comments come shortly after the release of an interview with Vladimir Putin where he has warned against taking the West's "Russian aggression" scaremongering seriously.
"I think that only an insane person and only in a dream can imagine that Russia would suddenly attack NATO," Putin said. "I think some countries are simply taking advantage of people's fears with regard to Russia. They just want to play the role of front-line countries that should receive some supplementary military, economic, financial or some other aid."
READ MORE: 'Russia would attack NATO only in mad person's dream' – Putin
The Russian president invited journalists to compare the global military presence of Russia, on one hand, and that of the US and NATO, and draw their own conclusions.
"We have dismantled our bases in various regions of the world, including Cuba, Vietnam, and so on," Putin said. "I invite you to publish a world map in your newspaper and to mark all the US military bases on it. You will see the difference."
Dempsey listed "capabilities that do threaten security in Europe" mentioning among them Russia's being "very adept in the media space of propaganda."
In April, Secretary of State John Kerry asked US lawmakers for more money for propaganda and "democracy promotion" programs around the world, having directly referred to RT's growing influence. RT's budget for 2015 is 13.85 billion rubles (some $277 million, according to the current exchange rate). By contrast, the US government media receives $721 million.
Among other threats Dempsey mentioned is Russia's "ability to conduct snap exercises with conventional forces that can coerce or at least threaten borders." The remark comes as military exercises close to Russian borders are being conducted on a non-stop basis.
READ MORE: 49 NATO vessels, 5,600 troops gear up for major US-led drills in Baltics
The latest example is a major US-led exercise BALTOPS in the Baltic Sea, which began June 5. Around 50 vessels from 17 countries, involving overall 5,600 troops, are taking part in these war-games that are set to last 15 days, to show off NATO's ability to protect the region.
In mid-May, NATO Secretary General Jens Stoltenberg announced the alliance is going to increase its activity at its eastern borders, with more air and sea patrols, amid non-stop exercises.
READ MORE: 'More air policing, more drills': NATO to boost presence on Russia's doorstep
You can share this story on social media: