Not quite terminators: Rescue robots compete at DARPA challenge finals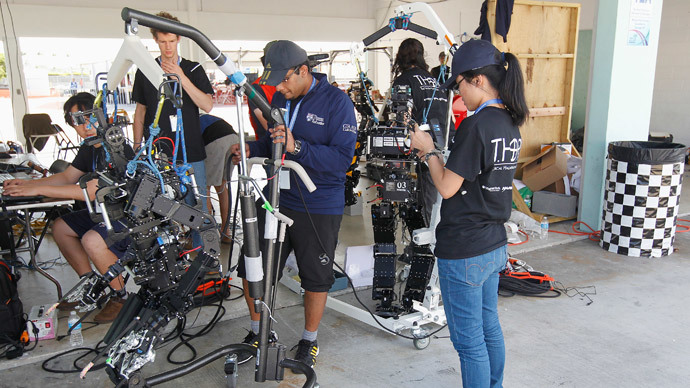 Twenty-three robots are competing in the DARPA Robotics Challenge finals for the $3.5 million prize fund, with their human controllers attempting to steer them through an obstacle course simulating a disaster scenario.
The competition kicked off Friday morning at the Fairplex in Pomona, California, and is expected to wrap up Saturday evening. Four identical obstacle courses have been built so that several teams can compete at the same time.
About half the teams are US-based, with others from Japan, South Korea, Germany and Italy. The only team from mainland China withdrew from the finals, reportedly due to visa troubles.
Our intrepid robotics team has made a handy cheat sheet for the #DARPADRC finals http://t.co/SkesNp9vYqpic.twitter.com/C6GE53p2Xm

— Rachel Courtland (@rcourt) June 4, 2015
Each team has one hour to complete eight tasks with their robot: drive a vehicle, exit the vehicle, open a door and enter a building, locate and close a valve, cut through a wall, perform a surprise task, remove rubble or navigate the terrain, and climb the stairs to exit the course.
The obstacle course is designed to simulate a disaster scenario similar to the Fukushima nuclear disaster in Japan, during the tsunami in 2011. DARPA is live-streaming the competition on YouTube.
"When Fukushima happened, we realized that we didn't have any decent robots that could go in there," Tony Stentz, leader of Carnegie Mellon University's team, Tartan Rescue, told Popular Science. "If we had, they could have opened some valves, and released gas, and avoided some of the explosions that occurred."
In a twist on earlier trials, the human controllers are set up in a separate area, without a clear line of sight to the robots. To further simulate a disaster scenario, DARPA has built in occasional radio interference, so the robots must act autonomously when the signal is lost.
Each team gets two tries at the course, once on Friday and again on Saturday, with the best score counting in the rankings.
Everything you need to know about the DRC Finals course http://t.co/L38eZkwBV4#DARPADRCpic.twitter.com/igraaI1McC

— Automaton (@AutomatonBlog) June 5, 2015
Many of the teams have already received development funding from DARPA. Winning the first place in the competition will net them a $2 million prize. The second-place finisher will get $1 million, while the team coming in third will have to settle for $500,000.
Previous DARPA challenges in 2005 and 2007 have already found their way into consumer technology, with Google hiring top-scoring team members for their driverless car program.
Likewise, the Mountain View-based company bought out the Japanese start-up SCHAFT, whose robot had scored the highest in the trials, but pulled it from this weekend's competition. There was no official explanation, but Google had just announced it would not accept further Pentagon contracts.