Good art hunting: Boston library finds missing Rembrandt, Dürer worth up to $630,000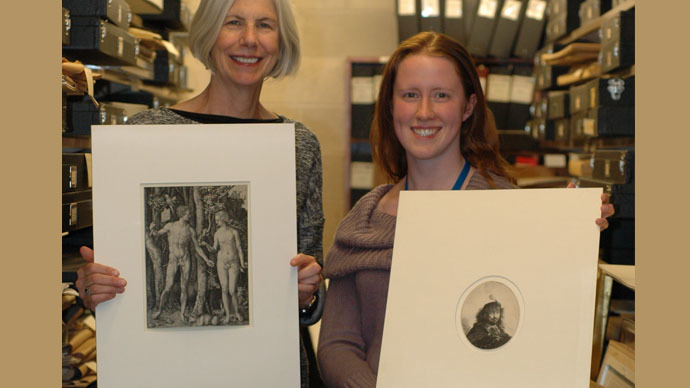 Two works of Renaissance art, believed stolen from the Boston Public Library, were found "misfiled" in the stacks. Police are still probing the disappearance of prints by Rembrandt and Dürer worth up to $630,000, while the library president has resigned.
"We're thrilled to have found these treasures right here at home," BPL president Amy Ryan said in a statement. "They were found safe and sound, simply misfiled."
Rembrandt's 1634 etching, 'Self-Portrait With Plumed Cap and Lowered Sabre', is worth up to $30,000, while Albrecht Dürer's 1504 engraving, 'Adam and Eve', is valued at $600,000.
Missing Dürer and Rembrandt Prints Found! http://t.co/JrESRfEBpTpic.twitter.com/FtoqISriyl

— BostonPublicLibrary (@BPLBoston) June 4, 2015
According to library officials, the two missing prints were found about 80 feet from where they should have been filed, after an eight-week search of print stacks. Fourteen librarians turned over some 180,000 items in the print stacks ‒ about 60 percent of the 320,000 total pieces in the library's inventory.
Ryan clarified that her resignation ‒ announced Wednesday following a heated board meeting devoted to the missing art scandal ‒ still stands. She is due to leave the library in July.
"It was my decision to resign... and it's still in place," Ryan told the Boston Herald. "I'm just so happy that the prints have been located."
Library staff noticed the disappearance of an engraving by Albrecht Dürer in June 2014, but Ryan said she was not notified until April 10 of this year. The initial search discovered a Rembrandt etching was missing as well. At that point, Ryan contacted the authorities.
READ MORE: Sotheby's puts famous Russian painting on sale despite claims it was stolen
Boston police, the FBI and the US Attorney's Office have been involved in the investigation since then, but it was the librarians who found the two prints.
According to the library's statement, the artworks were found in Row 14B, Bay 3 on Shelf 2 of the library's storage room, about 80 feet from where they should have been filed.
When asked whether someone could have taken the prints and returned them, spokeswoman Melina Schuler said the library was confident the art had never been removed from the library.
"The prints were misfiled. This was a matter of human error. That's how the library feels about this," Schuler said.
Susan Glover, a longtime librarian in charge of special collections, was suspended in April when alarm was raised about the missing prints. Her attorney, Nicholas DiMauro, said Glover fully cooperated with the police and always believed the prints had been misplaced, rather than stolen.
READ MORE: Picasso painting sets new auction record at $179.4mn
Commenting on Glover's suspension, Boston Mayor Martin Walsh said, "Now we have to go back and fix that," adding, "There are still a lot of questions out there."
Part of the problem, Ryan acknowledged, is that the library does not have a central inventory list, and has not cataloged every item in its possession.
Though Ryan said that no other items have gone missing on her watch, the library has received claims that several music scores belonging to composer and jazz pianist William Thomas McKinley have disappeared, as well as some gold coins once stored inside a time capsule, the Boston Globe reported.
"The anticorruption unit will continue trying to determine if anything else is missing," said Boston Police Commissioner William Evans. "We will be examining what they have there. The investigation is not over."
You can share this story on social media: