Clinton Fdn raised $26mn in Sweden as gov't lobbied Hillary on Iran sanctions – report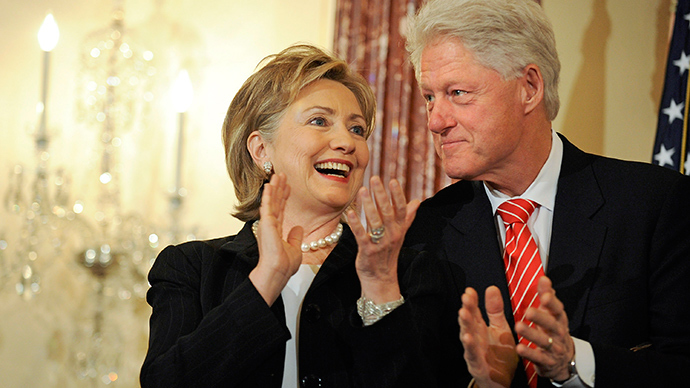 The Clinton Foundation raised $26 million in Sweden while the Scandinavian country's government was lobbying US Secretary of State Hillary Clinton to forgo sanctions that threatened business dealings with Iran, according to the Washington Times.
The Clinton Foundation's Swedish organization was called the "William J. Clinton Foundation Insamlingsstiftelse" and had never been cleared with State Department ethics officials, according to the Times.
When Hillary Clinton became Secretary of State in 2009, she agreed to implement a transparent review system of her husband's fundraising and speaking engagements; one which would scrutinize them for potential ties to foreign nations dealing with the US government. However, the Times reported that some activities were not known to the State Department.
READ MORE: Repressive govts donated to Clinton Foundation, arms deals approved by Hillary's State Dept. - report
The foundation's Swedish division escaped the notice of regulators because its incorporation papers were filed in Stockholm. Additionally, the identities of its donors were included in disclosure reports of the US-based charity, making it difficult to tell how the two separate entities differed.
The Swedish fundraising arm was set up at the same time the Swedish government was worrying about new penalties and sanctions being levied against Iran over its nuclear program, the Times stated. State Department cables released by Wikileaks show that many Swedish companies – including Volvo, Ericsson and ABB – were against tighter financial sanctions.
"Sweden does not support implementing tighter financial sanctions on Iran" and believes "more stringent financial standards could hurt Swedish exports," reads one cable sent to the State Department.
At the time, Iran was Sweden's second-largest export market in the Middle East after Saudi Arabia, according the Times. Ericsson was Iran's second-largest cellular provider.
Ericsson itself didn't make any contributions to the Swedish Clinton Foundation group, but it did pay the former president $750,000 for a speech in Hong Kong in November 2011, just weeks after Secretary of State Hillary Clinton released the first sanctions list for Iran that excluded Ericsson and Volvo.
READ MORE: Benghazi, memes & more: 9 revelations from Hillary Clinton's emails
The Clinton Foundation told the Times the Swedish branch of her foundation was established in 2011 to collect donations from lotteries in Sweden and take advantage of changes in Swedish law that allowed some of the country's lotteries to send money abroad. In this case, the Clinton Foundation received cash for causes such as fighting climate change, AIDS in Africa and cholera in Haiti.
"The Clinton Foundation is a philanthropy, period. We've voluntarily disclosed our more than 300,000 donors on our website, including those from Sweden,"said Clinton Foundation spokesman Craig Minassian to the newspaper.
Hillary Clinton's 2016 presidential declined to comment on the matter.