Environmental racism: N. Carolina coal ash pollution, fracking alarm NAACP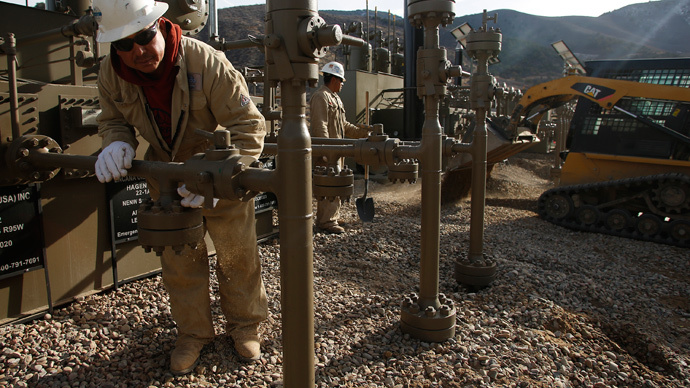 As North Carolina approves fracking tests, one community says it is disproportionately affected by pollution from coal ash ponds. Concerns over high levels of strokes, cancer and nerve damage have prompted a civil rights probe into environmental racism.
The NAACP announced its probe Wednesday. It is specifically aimed at uncovering whether environmental racism has played a part in the placement of coal ash waste water and fracking test sites in Stokes County, North Carolina. The investigation has implications for communities of color nationwide, as well as for North Carolina's decision-making processes determining where power plants and waste facilities are placed.
"We wish we didn't have to, but we are committed to doing so, to investigate and really bring justice around this issue of coal ash and about fracking, and about the injustices of these industries that operate without any regard for the human rights of the people who are impacted by this pollution," Jacqui Patterson, director of the NAACP Environmental and Climate Justice Program, said at a news conference in North Carolina, according to Common Dreams.
The NAACP will be working with the organization's North Carolina and Stokes County chapters during the investigation.
In an interview with RT, Patterson added that there have already been reports of health issues in Stokes County.
"The folks there have reported clusters of health impacts they are seeing in their communities, whether it is nerve damage, high levels of strokes, a number of odd cancers," she said. "They are tying it to the pollution of the coal ash pond."
Patterson said coal ash is residue left from burning coal to create electricity. It is either stored in piles or put into coal ash ponds. The ash contains innumerable concentrated toxins from selenium to lead to manganese.
READ MORE: Fracking may cause higher risk of cancer - study
The investigation could lead to a lawsuit, but Patterson said the organization first needs to find out what is going on and document not only the placement of the coal ash ponds, but the movement of the toxins, including how far they travel.
"Are they leeching into the groundwater? Are they leeching into the ground where people are growing food and then eating the food? Where are those points of exposure? Who is living there? What are the health impacts? What do hospital records show?" said Patterson.
Patterson argued that because poor communities are often not politically powerful, residents think companies are choosing to dump in those areas because they won't find much resistance. This could be evidence of environmental racism, she said. Corporations and government officials, when approached, argue the sites are chosen because the property is less expensive or because water is available, stressing the choice of locations in minority areas is not intentional.
Patterson said it will be hard to prove intent, but the investigation will explore whether there is a pattern of discrimination in the location of facilities and the resulting impact on community health. If a pattern of discrimination is established to exist, a lawsuit will be filed to exact justice.
READ MORE: Oklahoma lawmakers officially prohibit local fracking bans
"Wherever there are coal plants, there is coal ash, and unfortunately 68 percent of African-Americans live within 30 miles of a coal-fired power plant. So disproportionately, African-Americans, other communities of color, and low-income communities are exposed to these coal ash facilities," she told RT. "We are seeing this in different places as well. So not only disproportionate locations, but also health impacts and poor health clusters."
The NAACP investigation begins just days after the state's environmental regulators issued the first contracts allowing the launch of fracking tests at select locations. One of those sites is Walnut Tree, a majority black community located in Stokes County – a county that is more than 90 percent white.