Mongols in peril as feds target biker club's logo
Published time: 1 Jun, 2015 19:45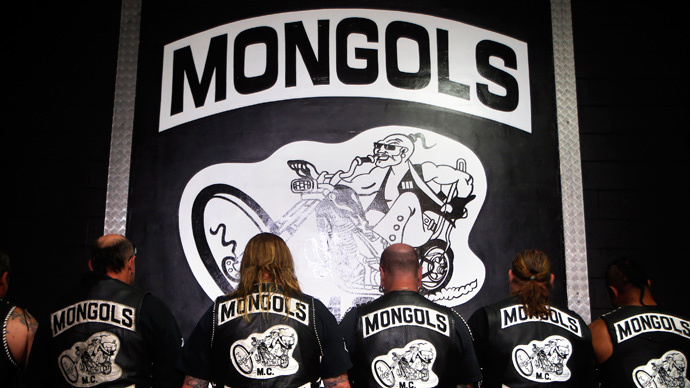 US authorities are using trademark law to go after a California biker club, claiming the 'Mongols' use their logo to threaten and intimidate. The bikers say their colors aren't a corporate trademark, but a club symbol protected by free speech laws.
The "Mongols" started in California as a group of primarily Hispanic bikers, but has since grown to more than sixty chapters around the world, including branches in Sweden and Germany, federal prosecutors say. The government is going after the group on racketeering charges.
A six-state federal sting in 2008, called "Operation Black Rain," resulted in 80 Mongols members pleading guilty to various federal criminal charges. According to the Wall Street Journal (WSJ), the government is expected to argue the club remains "steeped in violence and criminal activity" and displaying Mongols insignia amounts to making a threat.
Joseph Yanny, the attorney representing the Mongols, is optimistic about the chances of a fair hearing, after Judge Otis Wright II excused himself from the case last week.
"I think this is going to be a vast improvement for us," Yanny told the San Gabriel Valley Tribune. "I could be wrong, but I think we'll get a fair trial this way."
#News#California Judge recuses self from Mongols trademark case, trial delayed: LOS ANGELES >> A federal tria... http://t.co/rDnYvzSGbf

— California News (@Californi4News) May 31, 2015
The group's attorneys requested Judge Wright withdraw because he was the one to suggest going after the group's trademarks in the first place. Yanny said the members involved in the 2008 indictment were no longer members of the club, and that the government was seeking to punish more than 700 members of the organization based on the actions of a few.
"Law enforcement is going out there trying to demonize and vilify us," said David "Lil Dave" Santillan, the Mongols' international president. "We are a motorcycle club. We just want to ride and be free."
READ MORE: Nowhere near 1,000 guns: Waco police revise weapons haul from biker shoot-out
The case has attracted national attention, as bikers across the US are concerned it might set a precedent and allow the government to go after them next.
"They are worried that if they can do this to the Mongols, they can do it to anybody," Donald Charles Davis, a biker expert who blogs at Aging Rebel, told the Wall Street Journal. "The idea seems to be that you can ban motorcycle clubs by stripping them of their insignia."
"If anyone from another motorcycle club commits an illegal act, then the precedent is there," added William Dulaney, a professor at Air University in Alabama, described as an expert on biker culture. "That organization's colors could conceivably be confiscated."
The WSJ also quoted a statement by the US attorney in Los Angeles, who announced the original indictment against several Mongols members in 2008, saying forfeiture would allow police officers to stop any Mongols member and "literally take the jacket right off his back."
However, lawyers for the club have won preliminary court rulings in the intervening years arguing the club itself hadn't been charged with any crimes. The Mongols are arguing their logo is not a business trademark, but a "collective membership mark," which is considered protected speech under the First Amendment.
The trial was originally scheduled to begin on June 2. The case has been reassigned to Judge John A. Kronstadt, and a new hearing is scheduled for June 4 in federal court in Los Angeles.