​#UnitedForTahera: United Airlines faces boycott after Muslim woman denied soda over 'weaponization' fears
Published time: 1 Jun, 2015 16:52
Edited time: 3 Jun, 2015 07:32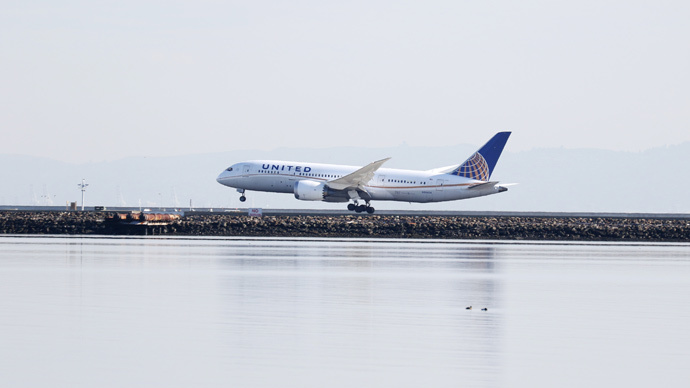 United Airlines has been threatened with a boycott after staff refused to give a Muslim woman a sealed soda can saying she might use it as weapon. Her supporters are calling on travelers to choose other airlines.
Strangers across the internet are supporting 31-year-old Tahera Ahmad, who wasrefusedan unopened can of Diet Coke on a Chicago-Washington DC flight on Friday.
#unitedfortahera everyone should boycott United till they apologize to Tahera and to the Muslim community in general.

— Hodan Hassan (@hodanheello) May 30, 2015
Calling the situation a "vile hate incident," one Twitter user asked United Airlines what it was going to do to "rectify" the situation.
@united what are you doing to rectify the VILE hate incident that occurred on your Arline? Plz do something soon or boycott #unitedfortahera

— Nishi Fatima (@The_Anecdoubtal) May 30, 2015
Another user said on Saturday that he was canceling his upcoming United flight and re-booking on Delta.
Skipping my @united flight tomorrow and purchasing a new flight from @Delta right now. Inexcusable. #unitedfortaherapic.twitter.com/fzCgecwUeA

— AbdelRahman Murphy (@AbdelRahmanM) May 30, 2015
Ahmad, a chaplain at Chicago's Northwestern University, wrote about her experience on Facebook while she was still on the plane.
Absolutely disgusted by the actions of @united staff. Spread the word #unitedfortahera lets continue to boycott

— transcendence (@climbingover) May 30, 2015
She said she was "in tears of humiliation from discrimination" after a flight attendant told her "we are unauthorized to give unopened cans to people because they may use it as a weapon on the plane."
When she asked for an unopened can, she was reportedly told: "Well, I'm sorry. I just can't give you an unopened can, so no Diet Coke for you."
However, Ahmad quickly noticed that the man next to her had been given an unopened can of beer. When she brought this to the flight attendant's attention, the employee promptly opened the man's drink.
"She was clearly discriminating against me," Ahmad wrote.
When Ahmad pointed this out to other passengers, a male passenger said: "You know you would use it as a weapon so shut the f**k up."
The flight attendant did apologize, saying he "acknowledged it was unethical and said he never should have said anything." The pilot also apologized and walked her to the service desk at Reagan National Airport, so she could file a formal complaint.
But while support for Ahmad continues to roll in, others in the Twittersphere are less sympathetic – with one alleging that United Airlines will be the "safest airliner in the world" if Muslims boycott it.
Muslims are threatening to boycott United Airlines. We have officially found the safest airliner in the world #unitedfortahera

— The Anti-Feminist (@FemsHaveBallz) June 1, 2015
Another user echoed those statements, responding to news of the boycott with "Good, maybe we can feel safe flying again."
Muslims are calling for a boycott of US airlines? Good, maybe we can feel safe flying again. #unitedfortahera

— THE Chris Coon (@Coondawg68) June 1, 2015
In a statement on Saturday, a United Airlines spokesperson said: "We spoke with Ms. Ahmad this afternoon to get a better understanding of what occurred and to apologize for not delivering the service our customers expect when traveling with us."
The spokesperson called the incident a "misunderstanding regarding a can of diet soda" – vocabulary which Ahmad and her supporters believe is unacceptable.
Ahmad wrote online that she was disappointed that the airline "dismissed [this] as a mere can of soda issue" instead of acknowledging what she believes is discriminatory behavior.
"I simply did not expect United Airlines to dismiss the unwarranted and unfortunate rude behavior, discrimination and hateful words, but rather acknowledge their accountability and role in the painful experience and share corrective measures within their training to prevent this from happening again regardless of their race, religion, gender, sex, or socioeconomic background," she wrote.