John Kerry suffers broken leg in cycling accident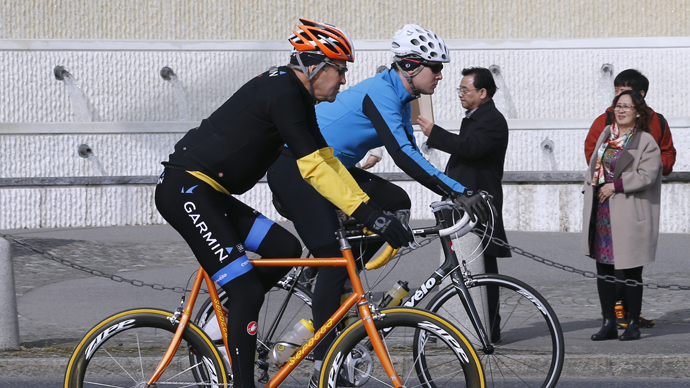 The US Secretary of State John Kerry is in a stable condition in a Swiss hospital, after he was involved in an accident while cycling near Scionzier in France. A State Department spokesman says he has broken his right femur.
Kerry was transported by medical helicopter following the incident to a hospital in Switzerland, where he is being examined. His spokesman, John Kirby said: "Secretary Kerry is stable and likely suffered a leg injury. He did not lose consciousness," Reuters reported.
It was later confirmed by a State Department spokesman that Kerry had in fact broken his right femur (thigh bone), but his injury was not life threatening and he is expected to make a full recovery. Kerry was set to return to the United States for treatment, canceling planned visits to Madrid and Paris, but decided to remain in hospital overnight.
MGH surgeon flies to Geneva to help oversee John Kerry's return to Boston after bike accident http://t.co/yFctbc7ljbpic.twitter.com/BLkZgNPkSd

— The Boston Globe (@BostonGlobe) June 1, 2015
"The Secretary had planned on flying back to the US this evening, but after further consultation it was sensible for him to remain in the hospital for observation overnight for purely precautionary measures and fly home tomorrow," State Department spokesman John Kirby said in a statement.
Kerry "continues to be in great spirits and active," Kirby added.
The accident happened in the French town of Scionzier (population around 6,000), is 40 kilometers southeast of Geneva.
The cycle-loving, 71 year-old Kerry had been in Switzerland for talks with Iranian Foreign Minister Javad Zarif to try and secure a nuclear deal. The June 30 deadline approaching, but Tehran has rejected a key demand by the West, which would grant access for inspections.
The US Secretary of State had been due to fly to Madrid on Sunday to sign an agreement with the Spanish government, which would permanently grant the US a military presence in the country. During his visit, he was also due to meet with King Felipe, Prime Minister Mariano Rajoy and the Foreign Minister Jose Manuel Garcia Margallo.
READ MORE: US gets permanent stronghold at Spanish military base, can triple contingent