Dozens gather for anti-Islam stunt outside Phoenix mosque, face counter-protest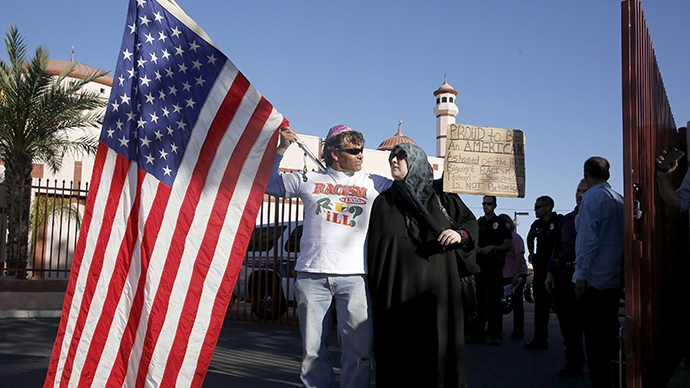 A crowd of anti-Islam protesters who gathered for a provocative rally in front of the Islamic Community Center in Phoenix, Arizona, has faced a much larger group of counter-protesters promoting peace. Police had to intervene to separate the two rallies.
The gathering outside the Phoenix mosque became a convergence of two rival protests with a phalanx of police officers separating the two. Despite anti-Islam event organizers calls on participants to bring guns and Mohammed cartoons and feel free to exercise their "constitutional right," the event remained peaceful.
Phoenix police form lines between both sides at mosque protest. #PHxMosque@phoenixpolicepic.twitter.com/EeYiLKkWIi

— Michael Edgecomb (@TheEdgePHX) May 30, 2015
A large group of people with signs reading "Love not Hate," and "Provoke Peace," came ahead of the provocative event planned to coincide with Friday prayers, and lined up near the mosque. In anticipation of trouble, Arizona police also stepped up security in the area to prevent provocations and defuse tensions should the events turn ugly.
Here's the dude at the anti-Islam rally in Phoenix wearing the white supremacist t-shirt pic.twitter.com/xEs0h7FFRK

— Matthew Keys (@MatthewKeysLive) May 30, 2015
The second, larger group gathered in response to rally under the hashtag #NotMyAmerica, and carrying peace signs, supporting the Muslim community, according to Fox10 News.
Protest I-17, Glendale in #phx Police helmet shields down, between anti-Islam protestors, others, live on #12News.com pic.twitter.com/EuU7OWJtIi

— Matt Mauro (@mattmauro12news) May 30, 2015
Only a few people showed up for the mosque's scheduled prayer service, as "pro-free speech" protesters began arriving, , some carried guns, wearing offensive t-shirts and placards, and waving American flags. Only a handful of some 7,000 people who had been invited to attend the event via Facebook, have shown up.
UPDATE: Protesters at the Islamic Community Center. #Sky12#12News#PhxMosquehttps://t.co/cNmj3EROiw

— 12 News (@12News) May 30, 2015
People arriving in front of #PHxMosque some armed over anti-Islam protest #Arizona#Phoenixpic.twitter.com/FjdhBBsoR0

— Cristian Benavides (@CBenavidesTAZ) May 30, 2015
Jon Ritzheimer, a former marine, and self-proclaimed "anti-Islam activist" organized the event on Facebook, and called for people to join him for a protest outside the mosque as part of a peaceful rally, but instructed that guns be brought as a precaution in the event that they came under attack.
Anti-haters vastly outnumber biker scum at Phoenix Islamic Center. pic.twitter.com/zdG7XJXMUj

— Richard Grayson (@RichardGrayson) May 30, 2015
Ritzheimer told Fox 10 Arizona that he was "hoping to inspire more freedom of speech rallies."
"This is not about me," Ritzheimer said. "This is about freedom of speech across America."
This is what #America looks like protecting #PHxMosque this evening. 20 of @PamelaGeller's gang bangers were present. pic.twitter.com/rXkWtXcZX2

— Abbas Hamideh (@Resistance48) May 30, 2015
He told the news outlet that the rally had been worth it but also that his life had been threatened, that he was going to have to sell his house, and going into hiding with his family.
The so-called "Freedom for Speech Rally II" was staged at the same mosque attended by the two gunmen who tried to attack the Mohammed cartoon drawing contest and exhibition in Garland, Texas, two weeks ago. The event was allegedly intended to "deliver a message" to the families of the two gunmen.Aliide,
You can share this story on social media: