Chimps used for hepatitis research abandoned in Liberia without funding for survival
Published time: 29 May, 2015 20:26
Edited time: 29 May, 2015 20:29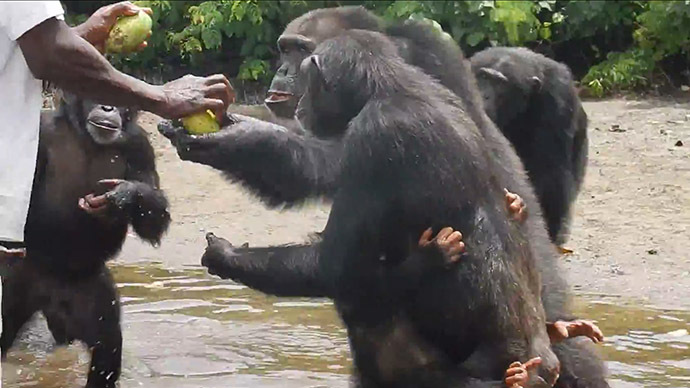 Forty years ago, the New York Blood Center purchased a group of chimpanzees to study hepatitis infections in Liberia. Ten years after the research project ended, the center has cut off promised funding, leaving the chimp colony to rely on donations.
The 66 chimps are now on a reduced feeding schedule, as the Humane Society of the United States (HSUS) has assumed the $30,000 per month cost of care, according to The New York Times. HSUS and conservation groups have started an online fundraising drive to support the chimps, while a Change.org petition has urged the New York Blood Center (NYBC) to restore funding.
NY I would not want people leaving chimpanzees to die of dehydration and starvation in charge of my blood supply! http://t.co/ehpfedKreZ

— Brian Hare (@bharedogguy) May 29, 2015
"If nothing happens, the chimps will perish," Betsy Brotman, the former director of the NYBC's research facility, told Motherboard. "All of them."
Starting in 1975, NYBC brought chimps to its research laboratory -- Vilab II -- in Liberia to test hepatitis vaccines. Chimps can contract hepatitis B and C, though their immune systems can deal with the infections better than humans. The work done at the lab led to a hepatitis B vaccine and a safe sterilization process for blood transfusions.
NYBC's research concluded in 2005, and the chimps that remained were sent to live uncaged on a batch of six mangrove islands amid a Liberian river. Liberian staff members of the lab were paid by NYBC to continue care for the chimps, which, according to Motherboard, were sterilized, though some sterilizations were not effective.
In January, NYBC announced it would soon halt the around $380,000 in yearly payments dedicated to care and food for the chimp colony. Despite a lack of a transition plan, the non-profit said the funding would cease in 60 days.
NYBC said that when the Vilab contract ended in 2007, the chimps were handed to the Liberian government and the Liberian Institute of Biomedical Research, which housed Vilab.
"NYBC had been supporting the sanctuary on a voluntary basis (although NYBC had no obligation to do so) until such time as the Government of Liberia could take over," NYBC spokesman James Haggerty told Motherboard.
"NYBC repeatedly let the Government of Liberia know that they couldn't provide this support indefinitely, but the Liberian government never instituted a transition plan."
HSUS head Waybe Pacelle criticized NYBC officials for going back on their word.
"The Blood Center previously committed itself to the lifetime care of these chimpanzees, its officials publicly announcing their ethical responsibility to do so and indicating the start of an endowment for this purpose a decade ago," he wrote in a recent blog post. "Officials there are now repudiating this commitment, stating heartlessly that the organization 'never had any obligation for care for the chimps, contractual or otherwise.'"
Haggerty, of NYBC, said the Liberian government was funding the chimp care, but the director of the Liberian Institute of Biomedical Research said that has not been the case, and that donations have sustained the colony.
"We continue to feed them from out of pocket donations from some of our research partners working with us at the institute," Fatorma Bolay said. "This is not a longterm solution. These daily voluntarily contributions may run out. We are still looking for a sustainable long term solution. No group has come up as yet."
Victoria O'Neill, another spokesperson for NYBC, told the Times that it had curbed the funding following "a long period of unproductive discussions with the Liberian government about their responsibilities in this regard, during which time we incurred millions of dollars of costs."
The chimps are almost completely reliant on their caretakers for sustenance, as there is a little natural food on the islands, according to Agnes Souchal, general manager of the Sanaga-Yong Chimpanzee Rescue Center in Cameroon. Souchal was hired by HSUS to assess the chimps' situation.
"I've not seen them before so it's hard for me to compare but they don't have the weight they should," Souchal told Motherboard. "What they need is to be fed at least once every day to start with, but in my line of work, they are fed four times a day: two main meals and two snacks. In the wild they spend at least eight hours a day foraging. They need a lot of energy, they're big animals with a lot of body muscle."
Souchal said a decrepit drinking water system on the islands was only recently repaired, so the chimps finally have a reliable source of water. Many concerned parties want NYBC to assume more responsibility in the chimps' long-term well-being.
"There is no other option," Brotman said. "The Blood Center must find some group and give them funding for the lifetime care of the animals that is not the Liberian government."
Vice, which operates Motherboard, released a documentary on 'Monkey Island' last year.
The fundraising effort, started on May 28, has garnered nearly $26,000 of its $150,000 goal as of 4:15 pm ET, May 29.