4 planes near NYC hit by laser pointer during 30-minute span
Published time: 29 May, 2015 15:04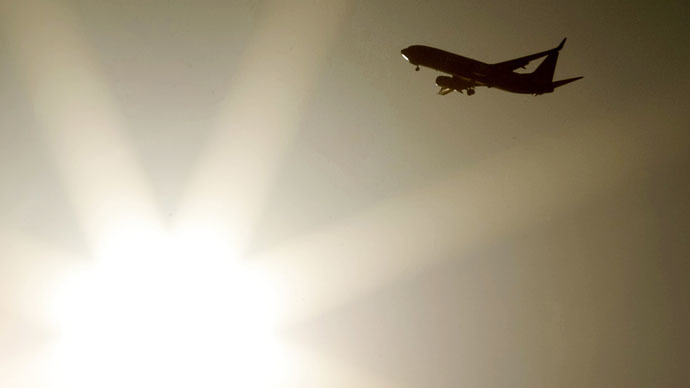 The Federal Aviation Administration says that four commercial airplanes were struck by a green laser while in the sky on Thursday evening outside New York City.
No injuries were reported, the FAA said, but federal officials consider illuminating an aircraft to be a serious crime punishable by up to five years in prison and a hefty $250,000 fine.
The four planes—American 185, Shuttle America 4213, Delta 2292 and Delta 2631—were each around 8,000 feet off the ground on Thursday evening when they were hit while traveling over Long Island. The incidents all occurred between 9:30pm and 10:00pm, and at least two of the planes were leaving John F. Kennedy International Airport in New York, according to the Associated Press.
A local CBS News affiliate obtained audio from an exchange between air traffic controllers and one of the pilots affected:
"Looks like some lasers coming outside now," the pilot said, adding later that "it is lighting up the inside of the windshield."
A provision tacked on to the FAA Modernization and Reform Act of 2012 makes it illegal to aim a laser pointer at an aircraft.
FAA Investigating After 4 Pilots Say Laser Was Pointed At Planes Over Long Island http://t.co/k8VhJvzwDO

— CBS New York (@CBSNewYork) May 29, 2015
"Shining a laser into the cockpit of an aircraft can temporarily blind a pilot, jeopardizing the safety of everyone on board," FAA Administrator Michael Huerta said last year when the Federal Bureau of Investigation announced the creation of a reward program aimed at encouraging people to report incidents to the FBI.
"It is important that people understand that this is a criminal act with potentially deadly repercussions," explained Ron Hosko, the assistant director of the FBI's Criminal Investigative Division.

Doug Reinholz, a St. Louis Metropolitan Police Officer who was riding in a helicopter that was hit with a laser in 2010, detailed previously how dangerous it is to try to control an aircraft when the cockpit has been suddenly illuminated

"By the time it gets to us at 1,000 feet, it's a lot bigger than it looks like at night and not just a pinpoint. As it hits that Plexiglas, the light disperses even more throughout the cockpit," he said. "It's equivalent to a flash of a camera if you were in a pitch black car at night. It's a temporary blinding to the pilot and also to the tactical flight officer, whoever we are with."
The FAA says that the New York State Police have been alerted about Thursday's incidents and that an investigation is currently underway. According to the CBS affiliate, 17 laser incidents were reported last year near JFK. The FBI says that an average of 11 incidents per day occurred nation-wide during 2013.