Bikers to stage anti-Islam rally outside Phoenix mosque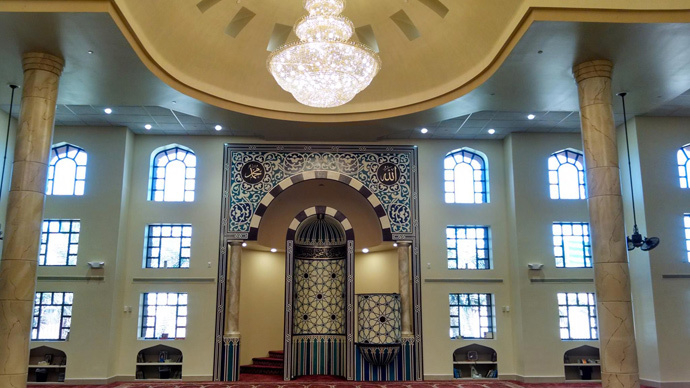 Arizona authorities are bracing for an anti-Islam biker rally scheduled outside a Phoenix mosque. John Ritzheimer, an ex-Marine organizing the event called for participants to come armed and draw cartoons of Prophet Mohammed.
Ritzheimer says he is targeting the Islamic Community Center because the two Islamic State (IS, formerly ISIS/ISIL) sympathizers who attacked a Texas event featuring caricatures of Mohammed used to attend the mosque.
"This is in response to the recent attack in Texas where two armed terrorist[s], with ties to ISIS, attempted jihad. Everyone is encouraged to bring American flags and any message that you would like to send to the known acquaintances of the two gunmen. This Islamic Community Center is a known place that the two terrorist[s] frequented," says the Facebook invitation to the event. By Thursday afternoon, fewer than 300 out of nearly 3,000 people invited had indicated they might show up.
Bikers armed with guns are heading to a mosque in Arizona to rally for freedom of speech. This will work out well. http://t.co/zF5Q1WXupq

— Arash Karami (@thekarami) May 28, 2015
READ MORE: 2 gunmen killed outside Mohammed 'art event' in Texas
The two Phoenix residents, Elton Simpson and Nadir Soofi, reportedly attended the mosque until 2010. On May 3, they attacked the "Mohammad Art Exhibit and Contest" in Garland, Texas, organized by the controversial group American Freedom Defense Initiative (AFDI). Simpson and Soofi were killed by event security, while one guard was injured in the shoot-out.
"I want this to be about pushing out the truth about Islam," Ritzheimer told local news station KNPX-TV. "I've read the Koran three times... the ones flying the planes into the tower, those are Muslims following the book as it is written."
Ritzheimer described himself as an outspoken, politically correct Marine. One of the profile photos on his Facebook page shows him waving an American flag and wearing a shirt with an explicit anti-Islamic inscription.
READ MORE: 9 killed in rival biker gang shootout in Texas
The Facebook invitation was ambiguous about the prospect of violence. While participants were "encouraged to utilize there [sic] second amendment right at this event just incase [sic] our first amendment comes under the much anticipated attack," they were also told there would be no food vendors, "because we don't want this to turn into a carnival."
Usama Shami, the current president of the Islamic Community Center, told KPNX he will encourage his members to not engage the bikers.
"Everybody has a right to be a bigot. Everybody has a right to be a racist. Everybody has a right to be an idiot," Shami told KPNX. "They're not looking for an intellectual conversation. They're looking to stir up controversy and we're not going to be a part of it."
Somewhere in Arizona: "Let's combine the two best things that've happened in Texas this year!" "Yeah! Armed bikers and Muhammad cartoons!"

— make it snow (@makeitsnowondem) May 28, 2015
The Previous "Freedom of Speech Rally" on May 17 drew few people and little attention. Phoenix Police declined to comment about any security measures they may be planning for the event.
You can share this story on social media: