Crooked Chicago cops put antlers on black man's head in 'trophy' photo revealed by court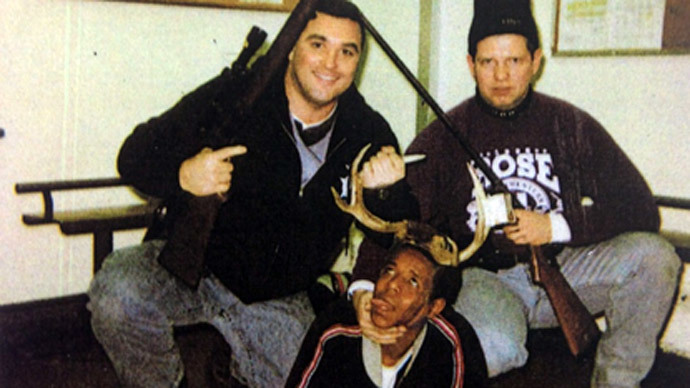 A shocking photo has emerged of two former police officers posing with a suspect dressed as a hunting trophy. The picture was unsealed by a Chicago judge as one of the officers fired over the incident appealed the decision.
The Chicago Sun-Times published the troubling polaroid on Tuesday, showing Special Operations Section (SOS) officers Timothy McDermott and Jerome Finnigan kneeling over an African-American man with deer antlers strapped to his head. It was taken sometime between 1999 and 2003.
Shocking photo CPD didn't want you to see: 2 white cops holding black man like hunting trophy http://t.co/zTyDv1Xhi3pic.twitter.com/8fwsK44T67

— Kim Janssen (@kimjnews) May 27, 2015
Finnigan was convicted of leading a group of rogue cops in a string of robberies and home invasions, and given a 12-year prison sentence in 2011. Federal prosecutors shared the photo with Chicago police two years later, resulting in a 5-4 police board vote that saw McDermott's fired as opposed to merely suspended. The majority opinion stated that "appearing to treat an African-American man not as a human being but as a hunted animal is disgraceful and shocks the conscience."
READ MORE: 'Hundreds could have been abused at Chicago police black site' – lawyer
Cook County Judge Thomas Allen decided to unseal the photo, although attorneys for both McDermott and the Chicago police requested it remain secret, citing concerns over the privacy of the yet unidentified man posing as the crooked cops' "trophy."
In a statement to the Sun-Times, the police superintendent, Garry McCarthy called the photo "disgusting."
"The despicable actions of these two former officers have no place in our police department or in our society," McCarthy said. "As the superintendent of this department, and as a resident of our city, I will not tolerate this kind of behavior, and that is why neither of these officers works for CPD today."
"Our residents deserve better than this, as do the thousands of good men and women in this department," McCarthy added.
Disgusting: White Chicago cop fired for posing w/black arrestee like a hunting trophy: http://t.co/exok5PCN46pic.twitter.com/WZ5Ccsu9q3

— Keegan Stephan (@KeeganNYC) May 27, 2015
Finnigan told federal investigators that the man in the photo had been arrested for having "20 bags of weed," reported the Sun-Times. The hunting rifles were the suspect's, Finnigan said, and the photo was taken in "the spur of the moment" at the Harrison Police District on the West Side. There was no report about the arrest, Finnigan told the FBI, because he and McDermott had let the suspect go.
McDermott left the SOS in 2003, so he was not involved in the 2007 scandal that saw the unit disbanded and Finnigan and several others charged and convicted. Former police superintendent Phil Cline praised McDermott as a "very hard-working policeman, the type of policeman I wanted working for us and his character was impeccable," according to the Sun-Times.
In a June 2013 interview with Internal Affairs Sergeant Michael Barz, McDermott remembered the photo, but not the time and place it was taken, or the identity of the man with the antlers.
"I am embarrassed by my participation in this photograph," he said at the time. "I made a mistake as a young, impressionable police officer who was trying to fit in."
This didn't happen overnight. Not bad apples, bad barrels. Think Stanford Prison Expmnt. & Abu Ghraib @PhilZimbardohttp://t.co/u0hoNZ9Lcy

— Maj. Max Geron (@MaxDPD) May 27, 2015
Court records obtained by the Sun-Times indicate McDermott, who earned 74 department awards during his career, was also involved in four federal lawsuits accusing him and other officers of misconduct. The three settlements and one jury judgment cost Chicago $162,000 in payouts, as well as "hundreds of thousands of dollars" in fees to the plaintiffs' attorneys.
You can share this story on social media: