Texas dam on Padera Lake 'breaches' following massive floods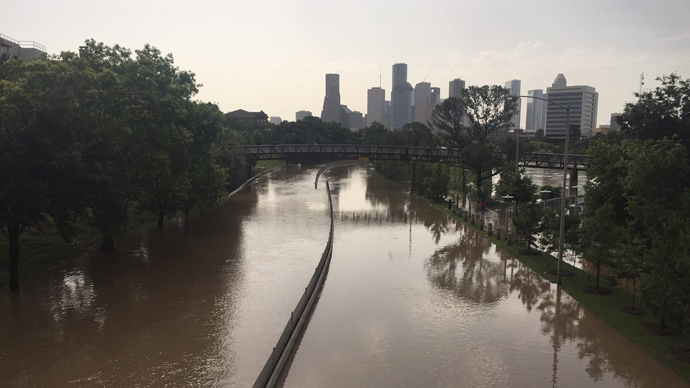 A Texas dam on Padera Lake has fractured as a result of unprecedented flooding, local media report. Authorities are issuing warnings, as the dam may break in the coming hours, placing anyone in its path in peril.
Local media has been sounding the alarm, with CBS affiliate KRLD reporting the dam had been breached at around 12pm GMT. However, no immediate danger was reported.
Photo: Chopper view of Padera dam near Midlothian, Texas, as concern grows that is could fail - pic.twitter.com/gvILqLA1id#breaking-news

— Pete Santilli (@PTSantilli) May 27, 2015
Several moderate streams of water began to flow over the edge of the dam, live footage from the scene showed.
Nevertheless, the National Weather Service advised people to move to higher ground.
Re: Padera Lake Dam-Highway 287 is being closed & traffic is being diverted. If in the path MOVE TO HIGHER GROUND NOW #Texas#flood#abc15wx

— Iris Hermosillo (@IrisABC15) May 27, 2015
Authorities have also blocked Highway 287, with as much as 15 feet (4.5 meters) of water expected to cover it if the dam gives way. Another highway between Grand Prairie and Midlothian is also expected to close soon, according to THV11.
Texas dam expected to break at any moment http://t.co/NKAJaj1Zawpic.twitter.com/vufSCeRClB

— THV 11 (@THV11) May 27, 2015
There are some two dozen homes and a business located in the vicinity. Farm animals have already been relocated.
NOW: Dam failure "imminent" near Midlothian, Texas. Watch #ABC15 Mornings for more: http://t.co/wsQoRGGcfIpic.twitter.com/YOdu3qAo4y

— ABC15 Arizona (@abc15) May 27, 2015
Authorities have started pumping off the water, to avoid a huge burst. Concerns over the dam were first voiced last week, so authorities have been putting safety precautions in place for several days now.
They no longer expect the dam break to let out a wave of water. It will be a slower process. All water goes to Joe Pool Lake. @NBCDFW

— Ellen Bryan (@EllenBryanNBC5) May 27, 2015
When the potential disaster became apparent, the dam was still under construction, being fortified to make it more permanent, according to NBC.
The danger that may arise, according to the weather forecasters, is a flash flood. The National Weather Service has issued a warning for Ellis County, saying Padera Lake, where the breached dam lies, is expected to be hit.
Photo: Water tops soil conservation dam at Padera Lake west of Midlothian, Texas - @scottdorsettpic.twitter.com/ccQbECZU6V#breaking-news

— Pete Santilli (@PTSantilli) May 27, 2015
You can share this story on social media: