Death toll rises in Texas as floods sweep Houston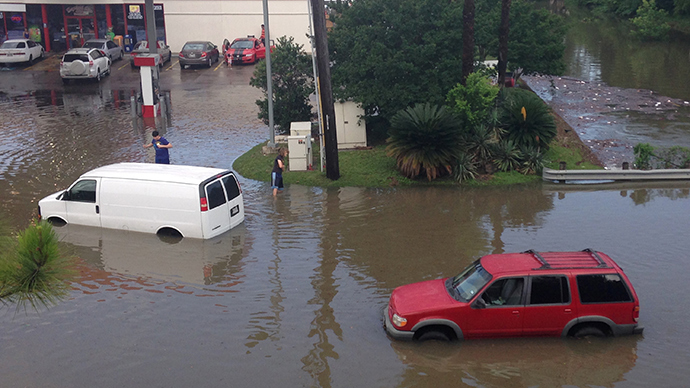 Huge sections of Houston, Texas--the fourth most populous city in the United States--are now underwater as a result of colossal flooding that continues to sweep the southern US.
At least two people were reported dead in Houston's flooding as of Tuesday morning, with at least 10 deaths across the region over the weekend now being blamed on the weather, according to NBC News.

Heavy rain and winds have complicated matters for the citizens of the Lone Star State in recent days, and a flash flood watch remains in effect for Houston through Tuesday afternoon. With rain expected to fall throughout the day, the city could see things getting worse before they get any better.
READ MORE: State of disaster declared in Texas due to severe weather conditions
On Tuesday, the Weather Channel described the situation in Harris and Fort Bend counties in the Houston metropolitan area as "extremely dangerous and potentially life-threatening."
Forty separate stretches of highway in the region have become submerged in high waters as of Tuesday, the Weather Channel reported, and hundreds of cars have been stranded on area roads after being put out of action by the flood.
Texas Governor Greg Abbott had already declared a state of disaster on Monday across 24 counties, but parts of the state saw upwards of 10 inches of rain overnight, according to the New York Times.
Downtown #Houston from a very flooded 288. #houstonfloodpic.twitter.com/w7mkDEZtkz

— mike mcguff (@mikemcguff) May 26, 2015
"You cannot candy coat it. It's absolutely massive," Governor Abbott said of the storm's toll, the Houston Chronicle reported.
Now as Houston prepares for even more rain, officials have suspended rail and bus services, public school classes and local government offices, according to the Times.
.@AnniseParker confirms at least two people dead after historic #Houston area floods. #houwxpic.twitter.com/DpkLTXvdk0

— KPRC 2 Houston (@KPRC2) May 26, 2015
I've never seen anything like this. Hwy 288 is a river. @FoxNews@ABC#houstonfloodpic.twitter.com/vcJhJgisNM

— Jill Barlow (@JillMBarlow) May 26, 2015
"This is the worst rain I've ever driven in in my entire life," Wesley McCully, a motorist stranded on a Texas roadway by the floods, told the Chronicle on Tuesday morning. "This is the only time I've had to pull over because it's so dangerous right now."
At some 2.1 million residents, Houston is the fourth most-populous city in the US and the largest in Texas.
You can share this story on social media: