Man tasered by TSA, arrested at Los Angeles International Airport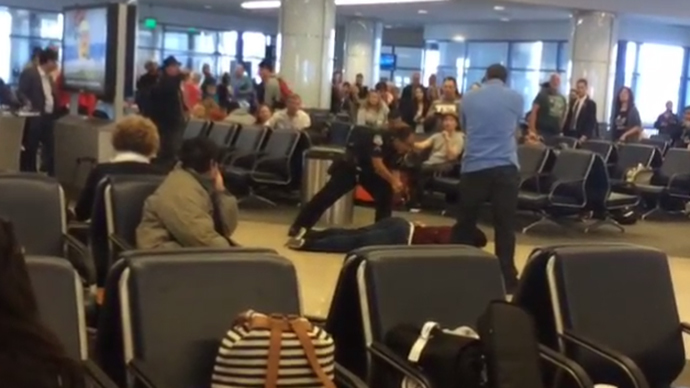 A unarmed man who refused to cooperate with Transportation Security Administration officers in a screening area at Los Angeles International Airport bolted when airport police arrived. The man was chased, tasered, and arrested, Reuters reported.
The incident happened on Wednesday and TSA officials have not disclosed who the man is or what caused him to run. His arrest was captured on video and posted on Instagram.
Actor Verne Troyer, best known for playing the villain Mini-Me in the Austin Powers comedies, caught the incident on camera.
Man gets tased at LAX! I pressed record on my phone: http://t.co/u9MqV3b4q8 via @YouTube

— Verne Troyer (@VerneTroyer) May 20, 2015
Traveler Sean Diamond was just about to catch his flight home when he said a man ran through security with two cops, one undercover and one uniformed, giving chase.
The video shows the man on the ground with two officers pointing weapons at him. He suddenly tries to get up and run, but is then shot with a Taser by a uniformed officer who yells, "Stay down! Stay down now!"
It just got real boarding my flight home. Guy ran through security, cops chased him, and then shot him w a taser just 20ft away. Ppl thought he was dead, screaming, diving beneath seats, and of course everyone filming. Cant believe they let the guy get this close to the gate before taking him down. #lax #taser

A video posted by sean sky dimond (@seandimond) on May 20, 2015 at 11:34am PDT
The suspect was not armed and was taken to a local hospital for treatment following the incident, according to a statement by Sergeant Belinda Joseph of Los Angeles International Airport Police.
"Airport police followed the man and detained him at Gate 66. As he was being taken into custody a use of force occurred involving a Taser," Joseph said.
An investigation into the incident is ongoing, according to the statement.
READ MORE: Live dynamite discovered at LAX airport
A spokeswoman for LAX Airport said the incident had not affected any departing or arriving flights.
Whatever caused the man to flee, it could be related to the TSA's use of a controversial practice known as "behavioral detection." That practice is at the center of a complaint filed by the American Civil Liberties Union (ACLU), which argues it is ineffective.
The TSA uses the so-called behavioral detection system as part of its Screening Passengers by Observation Techniques program, whereby specially trained officers look out for suspicious passengers, who are then sent for further screening.
The TSA has never said what kind of suspicious behavior it is looking for, but critics say things like fidgeting, sweating and eye movement can trigger suspicion.
READ MORE: TSA agents fired over system to fondle male genitals in Denver
The ACLU lawsuit claims the system has never apprehended any individuals posing a security threat. Critics say it also leads to racial profiling.
This is not the first time the technique has been called into question. A 2013 report by the Government Accountability Office questioned its usefulness and said there was no solid evidence that it is effective. It even went as far as saying Congress should limit the amount of money it is allocated. The service is not cheap, costing $200 million a year to train and field 3,000 officers.
The report found that in 400 cases, the specially trained officers were only slightly more effective in spotting deceptive behavior than untrained ones.