​Busted pipeline leaks 21,000 gallons of oil off California coast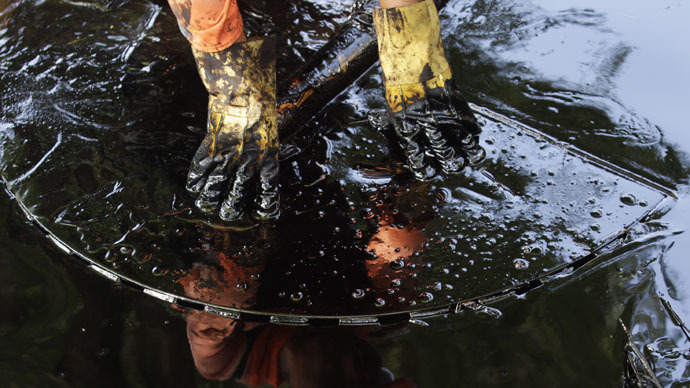 A busted pipeline off the California coast spilled approximately 21,000 gallons of oil into the ocean and onto beaches Tuesday as officials scrambled to secure the area, Reuters reported.
The spill occurred Tuesday afternoon at a site off the Santa Barbara County coast. The pipeline is operated by Plains All American Pipeline, the US Coast Guard in Los Angeles stated. While it's unclear exactly what type of oil seeped out of the pipeline, officials from multiple government agencies, including local, federal and wildlife, responded to the scene.
The spill extended about four miles along Refugio Beach, the Coast Guard said. An official added that it had traveled about 50 yards (46 meters) into the ocean, according to Reuters.
UPDATE: Officials estimate 21,000 gallons of oil leaked into waters off Santa Barbara County http://t.co/fhUXYkTXmKpic.twitter.com/pSayb8elsl

— Matt Hamilton (@MattHjourno) May 20, 2015
The site has been secured by authorities, the Coast Guard stated. There is no word yet on the cause of the leak. CNN reported that the pipeline had been shut off.
While Coast Guard officials told the Los Angeles Times that about 21,000 gallons may have been leaked, California state officials declined to comment until they can calculate the exact amount.
Oil spills off California coast after pipeline ruptures in Santa Barbara. pic.twitter.com/7VavnG0jF1

— Lorena de la Cuesta (@LorenadlaCuesta) May 20, 2015
Meanwhile, Refugio Beach has been closed in response to the spill. A warning was also issued for the neighboring El Capitan State Beach.
One photograph posted by the Coast Guard on Twitter showed black oil collecting on the coast.
#Update CG overflight photo from Refugio State Beach oil spill pic.twitter.com/MCxtce8xvN

— USCGLosAngeles (@USCGLosAngeles) May 20, 2015
As of now, it's unclear if any wildlife has been affected as a result of the spill.
"We haven't seen any reports of impacts on wildlife but it is in the water so it is impacting the environment," Richard Abrams, the emergency manager for Santa Barbara County, told Reuters.
Oil spill along Refugio State Beach after pipeline breaks #Californiapic.twitter.com/OEa5wGVBwc

— Andrés Benedicto (@_abenedicto) May 20, 2015
You can share this story on social media: