Waco shootout: Media & cops treat whites better than blacks, Twittersphere claims
Published time: 19 May, 2015 20:03
Edited time: 21 May, 2015 18:13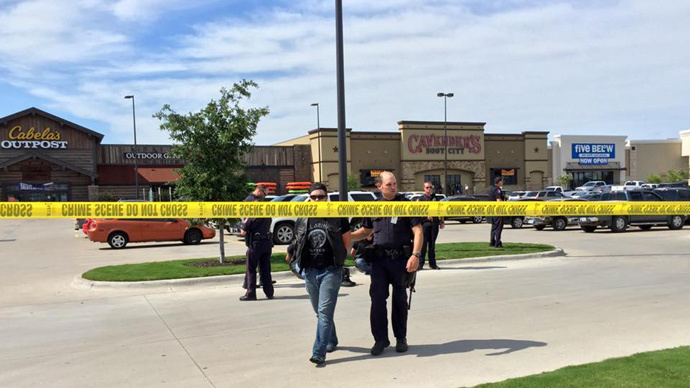 ​As mainstream media has rushed to cover the Waco biker shootout, many have expressed anger at the way the tragedy was handled. Social media was abuzz with claims that there is a double standard in reporting and policing when the bad guys are white.
The actions and vocabulary of journalists and law enforcement have come under intense scrutiny in the Twittersphere, with many comparing the coverage of the Waco shootout with that of the Baltimore and Ferguson protests.
More died today in Waco than Ferguson & Baltimore combined & the media still won't refer to bikers as thugs. Think about that. #WacoThugs

— RagingTeabagger (@RagingTeabagger) May 18, 2015
Riot or brawl?
The term "riot" has become commonplace in the media, particularly due to its heavy coverage of the protests surrounding the deaths of Michael Brown, Eric Garner, and Freddie Gray.
But what happens when a group of white bikers partake in a deadly shootout in a shopping center? Is it also a riot?
Worse then #Baltimore, media calls Waco a "melee" or "brawl" but apparently only black ppl "riot" in Amerika http://t.co/2DChmXGRMU

— Brett (@papicek) May 19, 2015
Salon's Jenny Kutner was quick to point out that The New York Times opted for words like "chaos" and "confrontation," while CNN used "brawl" and "brouhaha." Others repeatedly used the word "incident" to describe the tragedy.
The bikers "did not 'riot,' as far as much of the media is concerned. 'Riots' are reserved for communities of color in protest, whether they organize violently or not..." Kutner wrote.
White-on-white violence?
When protests in Ferguson and Baltimore turned into clashes, looting, and burning cars, the American public was reminded of the "black-on-black" violence taking place as African-Americans "burned down their own neighborhoods."
However, mainstream media doesn't seem to be reporting on "white-on-white" crime, despite the fact that most of the bikers involved were white.
"9 killed in Waco biker gang shootout - where are the white leaders decrying this white-on-white violence?" #stuffthemedianeversays

— John Fugelsang (@JohnFugelsang) May 18, 2015
Activist Shaun King echoed that sentiment, saying he would "wait (and wait and wait and wait)" to hear the media refer to the shootout as "white-on-white" violence.
Has this happened yet? The plague of "white on white" violence in America is drastically underreported. pic.twitter.com/s551pUm3v3

— Shaun King (@ShaunKing) May 18, 2015
Relaxed v. ready to fire
Riot police in Ferguson and Baltimore stood guard at the scene, ready to fire if needed. It was very different to that of Waco, where officers casually stood with their backs turned away from those being arrested.
White Waco gang members that justkilled 9 people v. a Black man walking home in Ferguson. Oh, America.: pic.twitter.com/Zy4Csi4uWK

— BrownBlaze (@brownblaze) May 17, 2015
The photo even shows one biker looking at his cellphone, while others stand around freely.
The word 'thug'
The term "thug" was frequently used by the media to describe those taking part in the Ferguson and Baltimore protests, leading many to question why the word wasn't being used in reference to the bikers.
White American Thugs Invade Waco http://t.co/ruxw69mYd7#Waco#icantbreathe#UniteBIuepic.twitter.com/gHiNsfaoXJ

— The Grasshopper (@GHopperNews) May 19, 2015
One Twitter user directly asked Fox News why it wasn't using the word.
.@FoxNews Why aren't you guys calling the Waco bike gang members "thugs?"

— Jensen Karp (@JensenClan88) May 18, 2015
Although the shootout was described by Waco Police Sergeant W. Patrick Swanton as the "worst" and "most violent" crime scene he had seen in 34 years of law enforcement, it seems the actions of officers and the media don't quite carry the same severity as they did in Baltimore and Ferguson - and social media appears to have drilled that point home.