Deceased extreme athlete Dean Potter's legacy (VIDEOS)
Published time: 18 May, 2015 18:06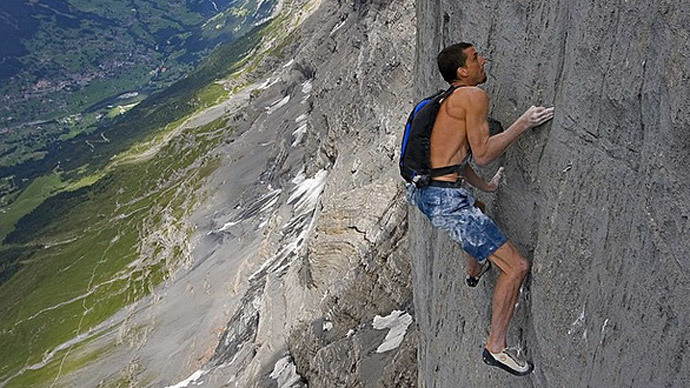 Dean Potter – the extreme athlete renowned for performing terrifying BASE jumps and daring climbs (including parachuting with his dog) has tragically lost his life doing what he loves at Yosemite. He was one of two people killed.
Potter, 43, was a attempting a wingsuit flight in Yosemite National Park in the US on Saturday when contact with him and his partner was lost, according to park ranger Scott Gediman, USA Today reports.
They were attempting a 7,500-foot (2,300-meter) jump at Taft Point, although jumping at Yosemite isn't strictly legal.
A search-and-rescue effort yielded no results, until, on Sunday morning, their bodies were discovered in the valley. The parachutes appear not to have deployed at all.
"This is a horrible incident, and our deepest sympathies go out to their friends and family… This is a huge loss for all of us," Gediman said.
Potter was known for performing incredible tightrope walks at some of the most iconic locations in the world, as well as BASE jumping without any rope or safety gear. Here are some of the stunts he performed, including free-climbs that would make anyone feel dizzy just watching, and some of the thoughts that used to run through his mind as he embarked on these deadly journeys each time.
And here's the heroic jumper's Base-jumping dog, Whisper. She appears to have no issue with extreme sports and is every bit as brave as her owner. She's also the star of Dean's film 'When Dogs Fly.'
Probably the best 'moonwalk' you'll ever see: a perfectly-timed shoot from a mile away, just as the sun sets and the moon rises, at Cathedral Peak. It's part of a National Geographic project called The Man Who Can Fly.
Here's Dean leaping off the Eiger in Switzerland.
Dean had the specter of death follow him throughout his life – ever since he was a child, as he explained in interviews. Years later he talked about it to clothing brand Prana.
"I'm not a dark person… every day, every moment, our lives are at stake,"he said."I notice that, with the idea of death being so close, I live life as well as I can, to be as good of a person as I can, to treat the people around me with as much love as I can pour into them and have good thoughts and breathe deeply."
As he explained,"the danger, for me, activates the heightened awareness."