Google's self-driving cars to begin testing… with drivers
Published time: 15 May, 2015 23:00
Edited time: 15 May, 2015 23:01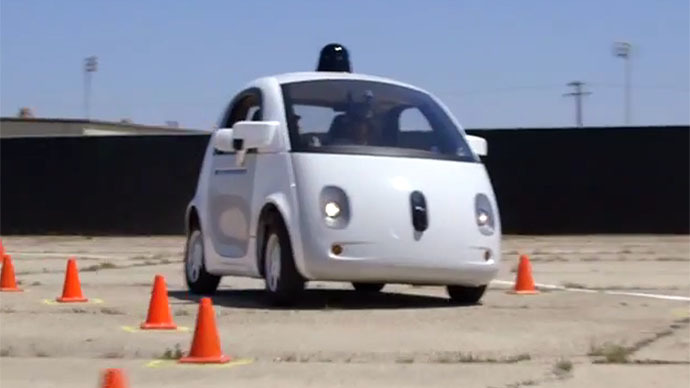 Google will start test drives of 25 prototype self-driving cars on California public roads this summer. Contrary to last year's company statements, they will have steering wheels, brakes and accelerators as well as drivers in case the software goes wrong.
The prototypes are built by car parts supplier Roush industries in Detroit and will have removable steering wheels, brake pedals and accelerators in case test engineers need to "take over driving", the project leader Chris Urmson said in a Google blog post on Friday.
This is a far cry from what he said a year ago when he claimed that the cars "won't have a steering wheel, accelerator pedal or brake pedal … because they don't need them."
Google plans to test new passenger and pedestrian protection technologies, including a flexible windscreen and a foam front bumper and the speed of all the test drives will be limited to 25 mph (40kph) in order to decrease the chance of accident or injury.
READ MORE: 4 self-driving cars in California have been involved in accidents in recent months – report
Google engineers are planning to test the cars in "rare and weird situations" what are known as "edge cases" that only occur every 100,000 miles, which the company says will "help us validate that our software handles even the rarest variations on common driving scenarios."
The new prototypes use the same software as the Lexus RX450h sport utility vehicle which has been adapted by Google. These vehicles have already clocked up some 10,000 miles of self-driving a week, accumulating nearly a million miles.
Google said Monday that the Lexuses have been in 11 accidents since they began tests on public roads but that none of these were the fault of the self-driving car.
"Not once was the self-driving car the cause of the accident," Urmson said, adding that no one was injured in any of the incidents.
Google said it is looking forward to learning how the community interacts and perceives the cars.
Ninety-four percent of all accidents are caused by human error and Google claims that self-driving vehicles can massively reduce their number.