​Nevermind: Jeb Bush walks back comment about authorizing Iraq invasion
Published time: 15 May, 2015 03:48
Edited time: 15 May, 2015 04:05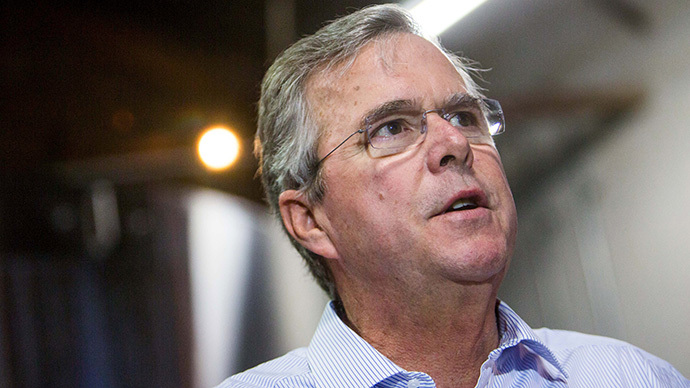 A few days after former Florida Gov. Jeb Bush said he would have authorized the invasion of Iraq even if he knew there were no weapons of mass destruction, the potential 2016 presidential candidate reversed his position.
"Knowing what we know now, I would have not engaged. I would have not gone into Iraq," Bush said at a Thursday town hall in Tempe, Arizona.
The comments were a notable reversal for Bush, who is considered a potential frontrunner for the 2016 Republican presidential nomination but has not officially entered the race, since he has spent much of the week trying to clarify an earlier response on the issue. Over the weekend, he told Fox News that "knowing what we know now," he would have invaded Iraq in 2003 like his brother, former President George W. Bush.
READ MORE: Brotherly love: Jeb Bush says he would've invaded Iraq too
"I would have [invaded], and so would have Hillary Clinton, just to remind everybody. And so would almost everybody that was confronted with the intelligence they got," he said.
Since then, he has addressed the matter several times, at one point saying he misunderstood the original question.
"I interpreted the question wrong, I guess," Bush said on Sean Hannity's radio show. "I was talking about, given what people knew then."
At another point, Bush said he did not want to dive into "hypothetical" situations, adding that doing so is a "disservice" to US soldiers who fought in the war.
"I don't know what that decision would have been – that's a hypothetical," he said. "Simple fact is, mistakes were made."
"Going back in time and talking about hypotheticals – what would have happened, what could have happened – I think, does a disservice for [the troops]. What we ought to be focusing on is what are the lessons learned."
According to Reuters, Jeb Bush has been told by George W. Bush that it's okay to put distance between the two of them, but the former Florida governor's loyalty to his brother has complicated his answers on the Iraq war.
"I don't go out of my way to disagree with my brother," Bush said in Arizona. "I am loyal to him. I don't think it's necessary to go through every place where I disagree with him."
He added that since he, as governor, had to call the families of those who did die in Iraq, "It's very hard for me to say that their lives were lost in vain … In fact, they weren't."
READ MORE: George W. Bush is one of Jeb Bush's top advisers on Israel
Bush's potential political rivals, though, have not hesitated on the question.
"Knowing what we know now, of course we wouldn't go into Iraq," said Sen. Ted Cruz (R-Texas), who is running for president.
Former Pennsylvania Sen. Rick Santorum, who is also likely to run for the Republican nomination, said he was surprised Bush gave the answer he did.
"I don't know how that was a hard question," Santorum said. "I've been asked that question a hundred times and the answer is pretty clear. The information was not correct...I think everybody accepts that now."
Meanwhile, Sen. Rand Paul (R-Ky.) told Politico that Bush gave an "incredibly fumbled answer" to the question and that he will demonstrate to voters a "clear distinction" between him and other candidates.
"We think it's a good place for where I am because I think the American people now think the Iraq War was a mistake," he said.