US drone program 'should've never started' - Ron Paul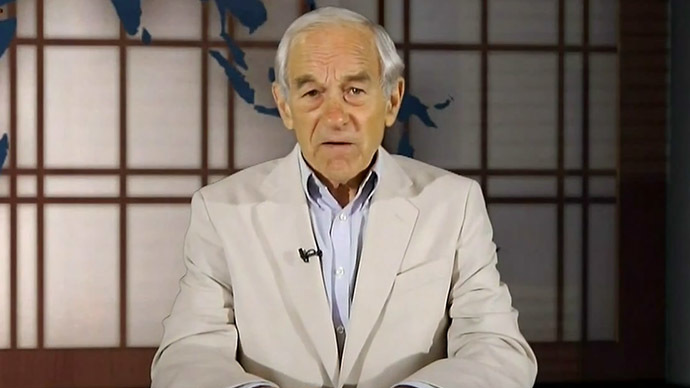 The US government is undermining Americans' rights at home through surveillance, and its drone program "should've been shut down a long time ago," former Texas Congressman Ron Paul told RT. He also criticized the prospect of another Clinton-Bush election.
Speaking on RT's 'Watching the Hawks' program, Paul was asked if it's time to close down the drone program considering that two hostages were recently killed in an airstrike.
"It should've been shut down a long time ago – it should have never been started, as far as I'm concerned," Paul said. "It gives us nothing but grief. They've been used for [the] assassination of American citizens."
"It should be closed down as quickly as possible. If it's ever to be used in wartime it should be very strictly controlled."
Paul dismissed the idea that drone strikes prevent American casualties by keeping the US from sending in ground troops, arguing that usually the deployment of drones, special forces and sanctions leads to more problems and continued escalation.
Regarding the National Security Agency's mass surveillance programs, Paul also said those who claim bulk collection helps "close the gap" between the government's failure to stop the September 11 attacks, like Sen. Tom Cotton (R-Arkansas), are "blowing smoke."
Paul said the sole purpose of the government and military is to protect our liberties, yet the federal government is doing the opposite. He added that interfering in other countries overseas draws the US further into conflicts to the point that it feels the need to undermine Americans' rights.
READ MORE: 'Get NATO, foreign countries out of Ukraine to end civil war' – Ron Paul
"We lose our liberties here at home, at the same time it's costing us a bundle, driving us into bankruptcy, and our freedoms are being undermined," he said. "We're told that we're [overseas] to protect our liberties and enforce the Constitution by fighting unconstitutional wars overseas and unconstitutionally undermining our Fourth Amendment here at home."
"It makes no sense. I just wish the American people would wake up," he said.
On the topic of the 2016 presidential election, the former lawmaker was asked about a potential matchup between former Secretary of State Hillary Clinton and former Florida Gov. Jeb Bush, a race that would pit another Clinton against another Bush.
"If that comes up, the American people are gluttons and they're going to have to suffer," Paul said. He noted that "there's a lot of big money" behind the fact that the Clinton and Bush families are mainstays in the political system, but said a disapproving population could change things if it wanted to.
"When the people reject, totally, confidence in the government and they know the promises aren't going to bear out, they change the program. Some of these systems fail because they're not workable," he said, adding that he believes the current US system of intervention and high spending will fail.
"The American people have a responsibility," he said, "but I hope they're not gluttons for more of this suffering."
You can share this story on social media: