Senate leaders reach deal to pass Obama's trade bills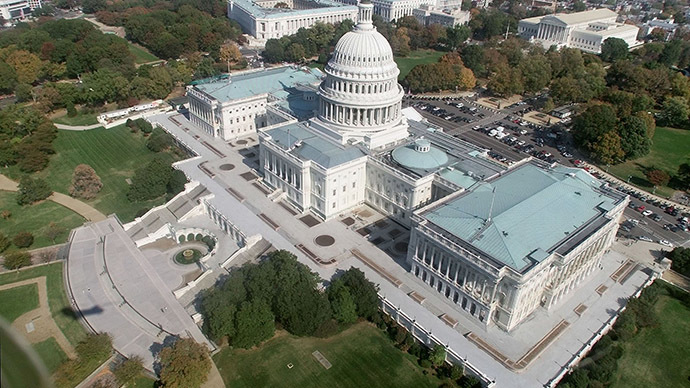 A day after Democrats stalled President Barack Obama's trade agenda, Senate leaders reached a deal to vote on two controversial bills before moving to a wide-open debate on granting the White House "fast-track" authority to negotiate future trade deals.
The US Senate will vote Thursday on a customs and enforcement bill that would require a response to countries that intentionally keep the value of their currency low. Another measure would expand trade with sub-Saharan Africa by allowing countries there to sell goods in the US duty-free. Both bills require 60 votes to pass.
READ MORE: Senate votes against fast-tracking TPP
Senate Majority Leader Mitch McConnell (R-Ky.) told reporters the deal will allow "senators the opportunity to take votes on the customs and preference bill in a way that will not imperil the increased American exports and American trade jobs that we need."
Once the Senate has voted on the two bill, Democrats have agreed to a debate a package that includes the Trade Promotion Authority (TPA) and the Trade Adjustment Assistance (TAA) bills. Both of these are desired by the Obama administration in order to finish a massive trade deal with 12 Pacific Rim countries and another with Europe.
Debate on these two bills would be subject to open amendment and will give senators an opportunity to vote on changes.
"Path to Pacific Trade Deal May Open in Senate After All" by JONATHAN WEISMAN via NYT http://t.co/XKgF731xsN

— Hipoteca Verde (@VerdeHipoteca) May 13, 2015
Earlier in the week, Senate Democratic leader Harry Reid (Nev.) had wanted to combine Obama's fast-track authority, the currency and African trade bills into a single package, which his caucus supported. They voted to block the debate on Tuesday when it became clear they would not get the votes to do so.
"The announcement today will drive home the importance of the message that the pro-trade Democrats sent yesterday," said Sen. Ron Wyden (D-Ore.), who helped design the compromise after filibustering the deal on Tuesday, according to the Huffington Post. "That enforcement, enforcement of the trade laws is a prerequisite to a modern trade policy, a trade policy that sets aside once and for all the NAFTA playbook. Suffice it to say that was the message conveyed yesterday by pro-trade Democrats."
READ MORE: Unions, activists look to derail Trans-Pacific Partnership fast track
Public disclosures about the in-the-works agreement have been few and far between. In many instances, they have been provided by the anti-secrecy group WikiLeaks.
On Tuesday, Sen. Barbara Boxer (D-Calif.) raised concerns on the Senate floor over the Obama administration's lack of transparency with regards to what's being discussed by trade deal participants.
"Let me tell you what you have to do to read this agreement," she said, according to the Intercept. "Follow this: you can only take a few of your staffers who happen to have a security clearance — because, God knows why, this is secure, this is classified. It has nothing to do with defense. It has nothing to do with going after ISIS."
Supporters of the trade deal with Pacific nations, known as the Trans-Pacific Partnership, argue that it will help expand foreign markets to American businesses and boost the economy. Opponents, however, claim that it will cost Americans jobs and that it does not go far enough to protect human rights, the environment and the internet, among other things.
You can share this story on social media: