Here, piggie piggie: Pork-barrel spending is out, pig selfies are in for Sen. Jeff Flake
Published time: 13 May, 2015 17:09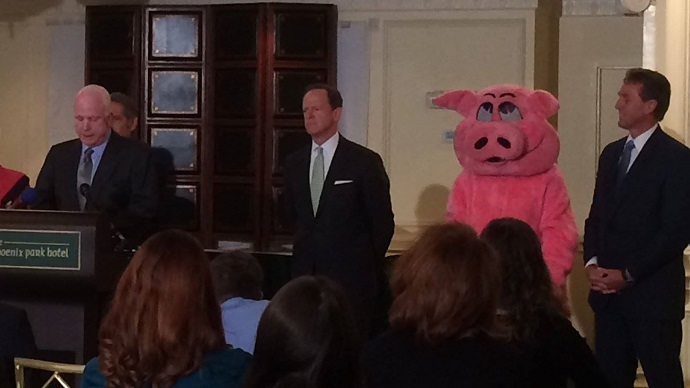 Senator Jeff Flake (R-Arizona) doesn't like pork-barrel spending. And it turns out that pork doesn't like him, either. After the annual "Congressional Pig Book" press conference, Flake tried to take a selfie with a pig. The pig wanted none of it.
The Congressional Pig Book is a complete database of what the Citizens Against Government Waste (CAGW) deems unnecessary and wasteful earmarks in the federal budget. This year, the group ‒ which also included Republican Senators John McCain of Arizona, Pat Toomey of Pennsylvania and Joni Ernst of Iowa, as well as Representative Tom McClinton of California ‒ had a live pot-bellied pig on hand for their yearly vow to keep pork spending out of the budget.
After the event was over, everyone left except Flake, who decided to take a picture with the pig, named Faye.
Ah, the glamor life of a Senator. Chasing a pig for a selfie. http://t.co/rEk2HDPDOt

— Jeff Flake (@JeffFlake) May 13, 2015
As Flake got on the ground with his cell phone, Faye pulled away from her handler, and tried everything she could to avoid the political paparazzo.
Eventually, however, Flake was able to get close enough to Faye to get his selfie, much to her dismay.
Only Wednesday, but this @pennstatetom photo of @JeffFlake is a slam dunk photo of the week pic.twitter.com/c7XrkMLzkg

— Roll Call Photos (@CapitolLens) May 13, 2015
There was also a pig mascot named PigFoot at the event to unveil the Congressional Pig Book.
"The 2015 Pig Book continues to prove that any earmark is a bad earmark," CAGW President Tom Schatz said in a statement. "At a time when members of Congress from both sides of the aisle and both sides of the Capitol continue to call for a restoration of earmarks, taxpayers should deliver a loud and clear message that it is time for earmarks to be permanently banned."
Sen. Pat Toomey, Pigfoot, a mascot, and Sen. Jeff Flake of Arizona look on as other speakers blast earmarks. pic.twitter.com/FHUo7VO2bj

— Laura Olson (@lauraolson) May 13, 2015
Along with the Congressional Pig Book, Flake highlights pork-barrel spending on a weekly basis through the #PorkChops hashtag. He calls it a "weekly roasting of egregious federal spending." On Friday, he highlighted a US Department of Agriculture grant to Reading University's International Cocoa Quarantine Centre outside London, England. The grant has spiraled to $525,835 since 2011 to develop a cocoa quarantine system.
"The only thing you're buying with a federally funded chocolate quarantine on Mother's Day is night on the couch," Flake said in a statement.
The only thing you're buying w/ a chocolate quarantine on #MothersDay is a night on the couch http://t.co/Dl2hAuTIBqpic.twitter.com/kvkfimGXCj

— Jeff Flake (@JeffFlake) May 8, 2015
Faye is from Richmond, Virginia. She wore a pink-and-white polka-dotted sundress with a bright pink bow and leash, as well as a white-and-pink hairbow. PigFoot, the CAGW's official mascot, was "on hand to entertain" and was in the buff.