​Berkeley to vote on 'right to know' law on cellphone radiation risks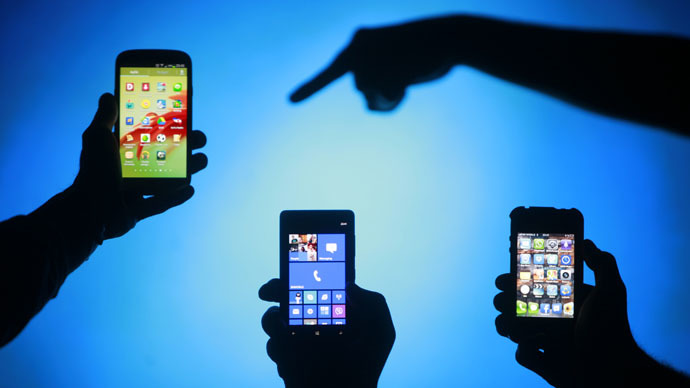 The city council of Berkeley, California, will vote on a cellphone 'right to know' law on Tuesday, which would require phone retailers to include a notice informing customers of the recommended distance a phone should be kept away from the body.
The proposed language includes the following warning: "If you carry or use your phone in a pants or shirt pocket or tucked into a bra when the phone is ON and connected to a wireless network, you may exceed the federal guidelines for exposure to RF [radio frequency] radiation."
The law would ban retailers from selling phones which do not include this message: "This potential risk is greater for children. Refer to the instructions in your phone or user manual for information about how to use your phone safely."
READ MORE: Insulated undies: Radiation-proof, sperm-friendly boxers launched
In order to limit radio frequency (RF) exposure, the Federal Communication Commission (FCC) recommends keeping your phone five to 25 millimeters away, depending on the model.
Those guidelines, established in 1996, assumed cellphone users would carry their devices away from their body, in a holster or belt clip, which was common at the time. But health activists now warn that mobile phone users carry their phones in their pockets, meaning they could be exposed to much more radiation – possibly two to seven times more.
Keeping up with modern times, the FCC has now suggested using a speakerphone, headset, or an earpiece, or texting rather than talking.
Ellen Marks, executive director of the California Brain Tumor Association (CABTA), supports and advocates cellphone "right to know" laws, stating that although such information is included by the majority of cellphone manufacturers, it can be difficult to find.
She used BlackBerry's manual as an example, stressing that it takes five steps to find the warning and that most people don't know it's there at all.
"The public deserves the right to know that there is safe distance information required by the FCC hidden deep in the phone or in the manual," Marks said, as quoted by CBS News.
If passed, the ordinance would become the first of its kind in the US. However, other regions have tried and failed to pass similar laws in the past.
In 2010, San Francisco approved a directive which would require retailers to display the Specific Absorption Rate (SAR) – the amount of radio frequency energy absorbed by the body – for each phone sold. However, the ordinance was thrown out in 2013 after the Cellular Telephone Industries Association sued the city, claiming the law would confuse consumers by implying that lower radiation levels are safer.
San Francisco surrenders in fight over cell phone radiation law http://t.co/yVlRR2SFQd

— RT America (@RT_America) May 8, 2013
That same year, Maine's state senator Andrea Boland introduced a cellphone warning label bill, saying the public had the right to know about potential risks associated with mobile phones. Although her bill failed, a 2015 version is currently awaiting a floor vote.
Hawaii, New Mexico, Pennsylvania, and the state of California have also considered similar warnings.
The city council vote comes just one day after the release of a letter signed by 190 scientists from 39 countries, calling on the World Health Organization, United Nations, and national governments to develop stricter controls on cellphones and other devices that emit RF or electromagnetic fields.
In 2013, the American Academy of Pediatrics urged the FCC to develop cellphone radiation standards which provide more protection for children, along with clearer disclosure for consumers.
While major US health organizations say that no harmful effects from cellphone radiation have been proven, many experts say longer studies over an extended period of time are needed before a conclusion is made.
In 2011, the World Health Organization's International Agency for Research on Cancer (IARC) stated that radio frequency such as that emitted by mobile phones is "possibly carcinogenic to humans." However, the American Cancer Society has stated that such "evidence remains uncertain."
You can share this story on social media: