Two police officers shot in Mississippi, suspects in custody
Published time: 10 May, 2015 05:15
Edited time: 10 May, 2015 12:28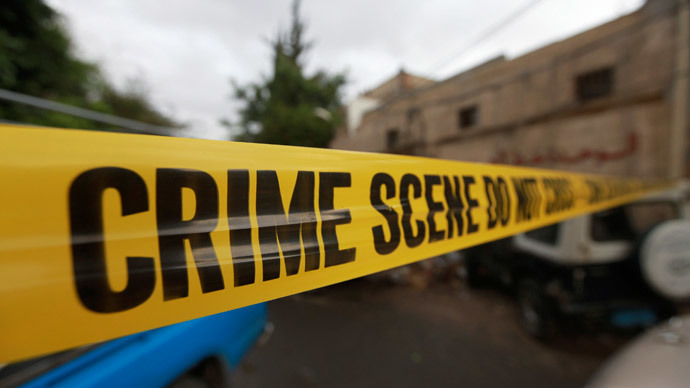 Three suspects in the killing of two police officers, shot during a routine traffic stop in Hattiesburg, Mississippi, are now in police custody.
Three people have been arrested in connection with the fatal shootings of two Mississippi police officers during a weekend traffic stop in Hattiesburg. Two of the suspects have been charged with capital murder.
Warren Strain, a spokesman for the Mississippi Department of Public Safety, told the Associated Press that 29-year-old Marvin Banks and 22-year-old Joanie Calloway have each been charged with two counts of capital murder in the fatal shooting of two police officers, Benjamin Deen, 34, and Liquori Tate, 25.
Banks' 26-year-old brother, Curtis Banks, has been charged with two counts of accessory after the fact of capital murder.
Strain confirmed the three Hattiesburg residents were arrested overnight without resistance following Saturday night's fatal incident.
Forrest County Coroner Butch Benedict said Deen and Tate were shot in Hattiesburg during a routine traffic stop and taken to hospital where they were pronounced dead, according to The Clarion-Ledger newspaper.
At least one of the officers was alive when he arrived at the hospital.
Curtis & Marvin Banks Wanted- Murder Of 2 Mississippi Officers. http://t.co/slDnhiuYtj#BlueAlert#RedNationRisingpic.twitter.com/QCGRC575eO

— RedNationRising (@RedNationRising) May 10, 2015
Hattiesburg Mayor Johnny DuPree had asked residents to stay indoors until the suspects were apprehended.
"The men and women who go out every day to protect us, the men and woman who go out every day to make sure that we're safe, they were turned on [Saturday] night," DuPree said during a brief news conference outside Forrest General Hospital. "But the person or persons who did this are not safe in the City of Hattiesburg."
2 police officers shot, killed in Hattiesburg; manhunt underway (via @HburgAmerican) http://t.co/gtZwGtYbPdpic.twitter.com/QOtj69xyXA

— WWL-TV (@WWLTV) May 10, 2015
Hattiesburg residents Tamika Mills and Pearnell Roberts were the first to discover the two police officers who had been mortally wounded.
"Never in my life have I experienced or seen anything like this expect on TV and to be in the midst of it, it's shocking and heartbreaking," Mills told the Clarion-Ledger. "As we were coming down Fourth Street, we noticed a bunch of lights. As we came on through, [Roberts] told me to turn around because she saw somebody laying on the ground.'
Scene of the shooting that took the life of 2 Hattiesburg police officers. pic.twitter.com/bl9ItuQ4fP

— Ryan Moore (@RyanMooreMS) May 10, 2015
"So I backed up. That's when we noticed the officer was down. We just saw that one, but in the course of me being on the phone with 9-1-1, I turned and I saw another officer across the street rolling on the ground. (Roberts) ran across the street to check on him. He wasn't all the way alert but he asked her: 'Am I dying? I know I'm dying. Just hand me my walkie-talkie.'"