4 dead after plane crashes on Atlanta highway
Published time: 8 May, 2015 16:55
Edited time: 8 May, 2015 20:34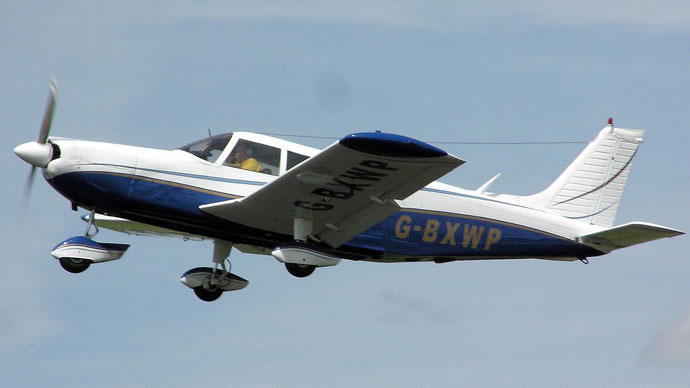 A small airplane crashed just north of Atlanta, Georgia, killing all four people on board. The plane reported a problem shortly after takeoff. The wreck closed Interstate I-285 and was blocking traffic in the area.
The single-engine aircraft, a Piper PA-32, "reported an issue on takeoff" from the nearby DeKalb-Peachtree Airport, according to Atlanta's WSB-TV. It hit a trailer truck on its way down, and exploded on the interstate, leaving burning wreckage along the barrier separating the lanes.
"Small plane crashes on Atlanta area interstate, killing 4" : http://t.co/VkEPe10Wlr via @YouTube

— All-events (@danielrev2) May 8, 2015
DeKalb county officials confirmed that three men and one woman died in the crash.
The Asheville Citizen-Times identified the victims as a local family headed to the University of Mississippi (also known as "Ole Miss") for Saturday's graduation ceremony. Robert Byrd confirmed that his father Greg, his brothers Phillip and Christopher, and Christopher's fiancée Jackie Kulzer, were on board the aircraft.
The university is heartbroken at the news of this tragedy. We offer our prayers for Robert, his family and friends. http://t.co/jLIN1YI3vp

— Ole Miss (@OleMissRebels) May 8, 2015
Greg Byrd, 53, was reportedly piloting the plane. He received his commercial pilot's license in January this year.
This map shows the short flight path from PDK to I-285. pic.twitter.com/LRNbjLSwWu

— WSB-TV (@wsbtv) May 8, 2015
"Whoever was in that plane, my heart goes out to their family," said Gerald Smith, driver of the trailer truck that was hit. "Just a normal workday for me [is now] a day I'll never forget, because somebody's life was taken."
Smith told Atlanta's WSB-TV he saw the plane coming down. "It wasn't any higher than the top of my truck," he said. "By the time I hit the brakes, I heard the impact."
Moments after the plane crash onto I-285>> #ATLtraffic#ATLnewspic.twitter.com/HOtBxxKC2n

— Chris Monroe TRAFFIC (@Atlanta_Traffic) May 8, 2015
Local media report that the interstate might be closed for "at least eight hours." Traffic delays are affecting the Atlanta area on I-285, I-85, and state highway 400.
WSB-TV reports that trailer trucks will be allowed through downtown Atlanta while the I-285 is closed, using I-75, I-85 and I-20 highways instead.
Hearing from sources that crews may be able to start opening westbound lanes of I-285 in the next 10-15 minutes. #ATLtraffic

— Mark Arum (@MarkArum) May 8, 2015