Silicon Valley county cancels Stingray surveillance contract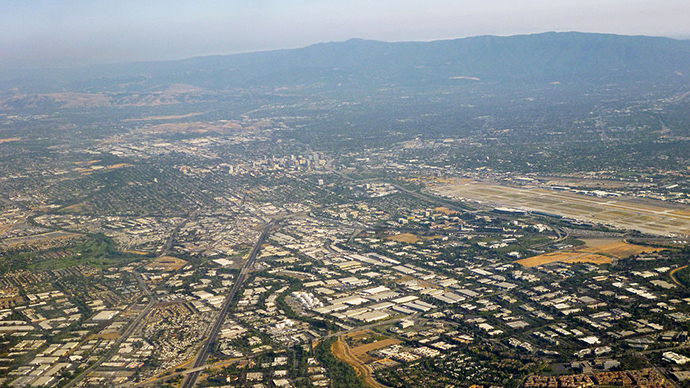 Officials in Santa Clara County were about to acquire a new surveillance device known as a "Stingray," but negotiations broke down after Harris Corporation wouldn't agree to even the most basic public records responsibility.
Local lawmakers in Santa Clara had initially approved using federal funds to acquire the device in February. Little is known about the Stingray devices, which intercept phone data by mimicking cell phone towers, because local governments that are using them are required to sign a non-disclosure agreement by the corporations that make them, such as Harris.
READ MORE: NSA's telephone metadata collection not authorized by Patriot Act - appeals court
"After negotiations regarding contract terms, including business and legal issues, the County and Harris have been unable to reach agreement on a contract for the purchase of the System,"wrote James Williams, the deputy county executive, to County Executive Jeffrey Smith. "Accordingly, the System will not be purchased at this time."
County Executive Smith told Ars Technica the contract with Harris involved overly strict restrictions on disclosures through the public records process.
"What happened was, we were in negotiations with Harris, and we couldn't get them to agree to even the most basic criteria we have in terms of being responsive to public records requests," said Smith.
"After many hours of back and forth it became clear that they weren't going to consent to a contract in an attempt to keep everything secret and non-discoverable and that's not something we could live with as a public agency. The negotiations are going to be terminated and the grant money will go to other purposes."
Santa Clara nixes Stingrays bc "we couldn't get [Harris] to agree to even the most basic criteria" on public records http://t.co/OryPzebaVJ

— Peter Bibring (@PeterBibring) May 7, 2015
Santa Clara may be the first county in the US to refuse to accept Harris Corporation's non-disclosure agreement, but it comes at a time when a number of investigations are underway into whether the technology breaks the law and violates the privacy rights of Americans.
"Stingrays are very invasive surveillance tracking technology and Santa Clara County was right to bring the issue of its acquisition to the Board of Supervisors and thoroughly consider the legal issues," the American Civil Liberties Union of North California said in a release on Wednesday.
READ MORE: FBI admits to using surveillance plans above Baltimore protests
The ACLU has identified 51 agencies in 21 states, plus the District of Columbia, as owning Stingray surveillance devices. Civil liberties groups that have been making public records requests in order to learn more about the technology have discovered that non-disclosure agreements exist between governments and companies like Harris. The ACLU has filed public records requests with more than 30 Florida law enforcement agencies, while the New York Civil Liberties Union has filed one with the sheriff's office in Erie County, New York.
What is known is that these cell-site simulators trick phones into connecting to them by posing as cell phone towers – they can block or drop phone calls, and disrupt other mobile devices that use the same cell network, according to recent court disclosures. The ACLU said that law enforcement officials in Florida have used Stingray surveillance to track cell phone locations on more than 1,800 occasions, all without warrants.
The Harris Corporation's Stingray is the most well-known device utilizing the controversial spying technology, which is used by the FBI, the Secret Service, the Drug Enforcement Agency and many state and local police agencies. By impersonating cell towers, the devices force phones in the area to broadcast information that can be used to identify and locate users. Ars Technica reported earlier that the FBI is trying to "prevent disclosure" of how the devices are used in local jurisdictions across the US.
READ MORE: 'Stingray' surveillance devices can degrade service for any cell phone in vicinity - report
The ACLU's recent disclosure included a court filing that uncovered the ability of a Stingray to negate cell phone calls by either downgrading mobile devices from 3G or 4G connectivity to 2G – enabling them to access identification and location information – or by using the devices' "catch-and-release" functions
"As each phone tries to connect, [the stingray device] will say, 'I'm really busy right now so go use a different tower. So rather than catching the phone, it will release it," Chris Soghoian, the ACLU's chief technologist, told WIREDof the "catch-and-release" theory.
You can share this story on social media: