Burn the birds: Iowa using incinerators to cope with 20 mn casualties of avian flu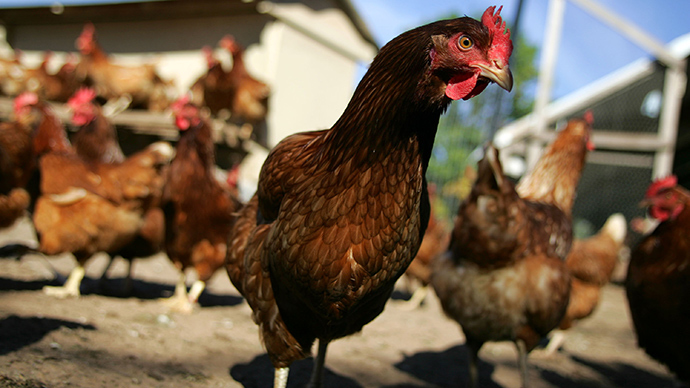 Iowa is struggling to dispose of more than 20 million chickens, ducks and turkeys affected by avian flu, as the epidemic spreads. Landfills are reluctant to accept any more birds, prompting authorities to bring in portable incinerators.
Six more outbreaks were discovered Wednesday, bringing the total number of confirmed cases of H5N2 bird flu in northwestern Iowa to 34. Five cases involved commercial chicken farms in Sioux County, while one affected a backyard flock of ducks in O'Brien County.
The Associated Press estimates that 21 million chickens and half a million turkeys will need to be destroyed in 11 Iowa counties, with another 7 million birds in Wisconsin and Minnesota affected as well. The three states have declared an emergency due to the epidemic.
READ MORE: Birdemic: Iowa becomes 3rd state to declare emergency over avian flu outbreak
Iowa's Department of Natural Resources (DNR) has issued three temporary permits to Clean Harbors, a Massachusetts company, to set up portable incinerators in Sioux, Kossuth and Cherokee counties, reports the Des Moines Register.
In a letter sent to state landfills Wednesday, DNR Director Chuck Gipp and Iowa Secretary of Agriculture Bill Northey asked for all disposal options to be made available, given the "unprecedented volume" of infected birds.
"This disease will ultimately result in tens of millions of dead chickens and turkeys," wrote Gipp and Northey in the letter. The birds need to be disposed of in a way that protects the environment as well as prevent the spread of the disease. This means using landfills, on-site burials, composting and incineration to cope with the crisis.
Mass. company moving to Iowa temporarily to burn up dead birds. Landfills don't want any more. http://t.co/OkKgJZvJdt

— John Hult (@ArgusJHult) May 7, 2015
The permits were issued after some landfill operators refused to accept the increasing number of dead birds, citing fears of spreading the virus to nearby farms and possible groundwater contamination.
Larry Oldenkamp, director of operations at Northwest Iowa Area Solid Waste Agency, said local leaders are concerned over disposal of some 9.7 million birds that have been culled in the agency's area of operations, because authorities are yet to figure out how the virus is spreading.
"We know it's spreading somehow, but we don't know how. That's the kicker," Oldenkamp told the Register. "We have to worry about our neighbors. We've got quite a few operations within 5 miles — maybe four or five," he said.
Bag 'em, burn 'em, bury 'em; Iowa still can't keep up with #birdflu deaths. http://t.co/qqsMB2KckI via @DonnelleEpic.twitter.com/OTDKGVUABB

— Mike Trautmann (@Trautguy) May 7, 2015
Many of the affected farming operations have been composting the culled poultry on-site. State officials say that Sunrise Farm in Osceola County has composted about 2 million of about 3.4 million infected hens. Rembrandt Enterprises, dealing with the largest outbreak in the US with nearly 5.7 million laying hens, is composting as well.
Oldencamp explained the birds are placed in "bio-zip" bags that decrease the time it takes for the carcasses to compost and increase the temperature enough to kill the virus.
Iowa turkey farmer @katieolthoff shares her thoughts fears & heart on #avianinfluenza. "Faith, farming and #birdflu" http://t.co/NkLTVsUgBK

— Iowa Dept of Ag (@IADeptAg) May 7, 2015
Iowa produces one fifth of all eggs consumed in the US. State and federal health officials continue to insist that there is no food safety risk, and that no human infections involving H5N2 have been detected.
You can share this story on social media: