'Bomb train' derails in North Dakota, explosion forces village evacuation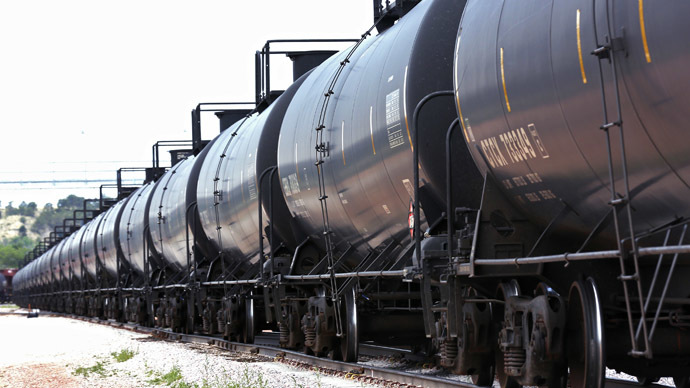 A train carrying crude oil through Wells County, North Dakota has derailed. At least six rail cars have caught fire, sending thick, black plumes of smoke billowing into the sky. The village of Heimdal and nearby farms have been evacuated.
"The [Federal Railroad Administration] has deployed a ten person investigation team to the site and will be conducting a thorough investigation into the cause of the accident," Acting Federal Railroad Administrator Sarah Feinberg said in a statement.
Heimdal, North Dakota, Evacuated After Fiery Oil Train Crash - http://t.co/qFE4eHBrzihttp://t.co/twyEAT2lzrpic.twitter.com/jeibocrQ0I

— Overnewser (@overnewser) May 6, 2015
The BNSF Railway oil tanker derailed around 7:30 a.m. local time, Wells County Emergency Manager Tammy Roehrich said, the Grand Forks Herald reported.
Emergency crews from several fire departments across the region have responded, as well as hazardous materials teams from Devils Lakes and Grand Forks, Cecily Fong, public information officer for the North Dakota Department of Emergency Services, said.
The train's engine and some of the attached cars were decoupled and moved away from the burning tanker cars, Fong said.
READ MORE: New rules for oil-packing 'bomb trains' leave all parties dissatisfied
Jennifer Willis lives about a half mile from where the train derailed. She told Valley News Live that the derailment sounded like thunder. Willis has been evacuated from her home. She added that she could feel the heat from 1/8th of a mile from the scene.
About 40 people live in Heimdal, the vast majority of whom have left the village to stay with family and friends, Roehrich said, according to CBS News.
BNSF, which is owned by Berkshire Hathaway, said the tank cars involved were were unjacketed CPC-1232 models, the same model of so-called "bomb trains" that are set to be phased out over the next five years.
"Initial reports from the crew indicate there are no injuries but a fire has been reported at the scene," BNSF said in a statement.
The FRA, part of the US Department of Transportation, recently issued new regulations for tank cars carrying crude oil and ethanol. Under the new rules, the oldest and least-safe tank cars, DOT-111s, long known to be inappropriate for transporting flammable material, would be phased out within three years. Unjacketed CPC-1232s would be phased out within five years. They would be replaced with the jacketed CPC-1232s, which have thicker shells, higher safety shields and better fire protection.
"Today's incident is yet another reminder of why we issued a significant, comprehensive rule aimed at improving the safe transport of high hazard flammable liquids," Feinberg said. "The FRA will continue to look at all options available to us to improve safety and mitigate risks."
This is the fifth train derailment and fire in the US and Canada so far this year, Business Insider reported. All of the incidents have occurred in rural areas, and none have resulted in any deaths.
You can share this story on social media: